The "active" content repurposing process
Marketing Powerup #23: Ryan McCready, Managing Editor at Reforge, shares his process for creating more content in less time.
Happy April 1st, my friends!
I'm switching things up for this issue and starting with the "Mini Powerups," fun-sized blurbs and links to help boost your marketing.
Then we dig into Ryan McCready's "active" content repurposing process. Plus, I share this week's powerups cheatsheet.
Ready? Let's go!
---
✨ Mini powerups
Fun-sized links and blurbs to help boost your marketing.
✨ The marketing strategy behind the Spice Girls: I have a confession; I was a HUGE fan of the Spice Girls. I would sing along to "Tell me what you want, what you really, really want…" When I saw that Brianne Fleming broke down the marketing strategy behind their rise, I had to tune in and share it!
✨ Google's new guidelines for AI-produced content: If you use AI to provide valuable content, Google won't ding you. But consider some caveats when using AI for SEO content. This article dives into some possible best practices, including making your content stand out from the crowd.
✨ Product friction could be a good thing: ​Product friction gets a bad rep. But when implemented well, it can slingshot users further down the funnel - and boost engagement, reduce churn, and accelerate conversion. I'm doing a live Q&A with the folks at Toplyne on Tuesday, April 4th, at 12:30 pm ET. Join me!
---
⭐️ The "active" content repurposing process
Want to create more content?
Sure, you can write more blog posts, create more Twitter threads, and produce more YouTube videos.
All of that sounds exhausting!
What if you could 10X your content output without really creating more content? Sounds too good to be true, right?
That's the power of repurposing. The problem is you're probably doing it wrong!
Here's what Ryan McCready, Managing Editor at Reforge, says:
A lot of marketing teams take a reactive approach to content repurposing. They wait and see if a piece of content is doing well. When a piece of content blows up there's a mad dash to get that content in front of even more people.
Today, Ryan shares his "Active" Content Repurposing Process.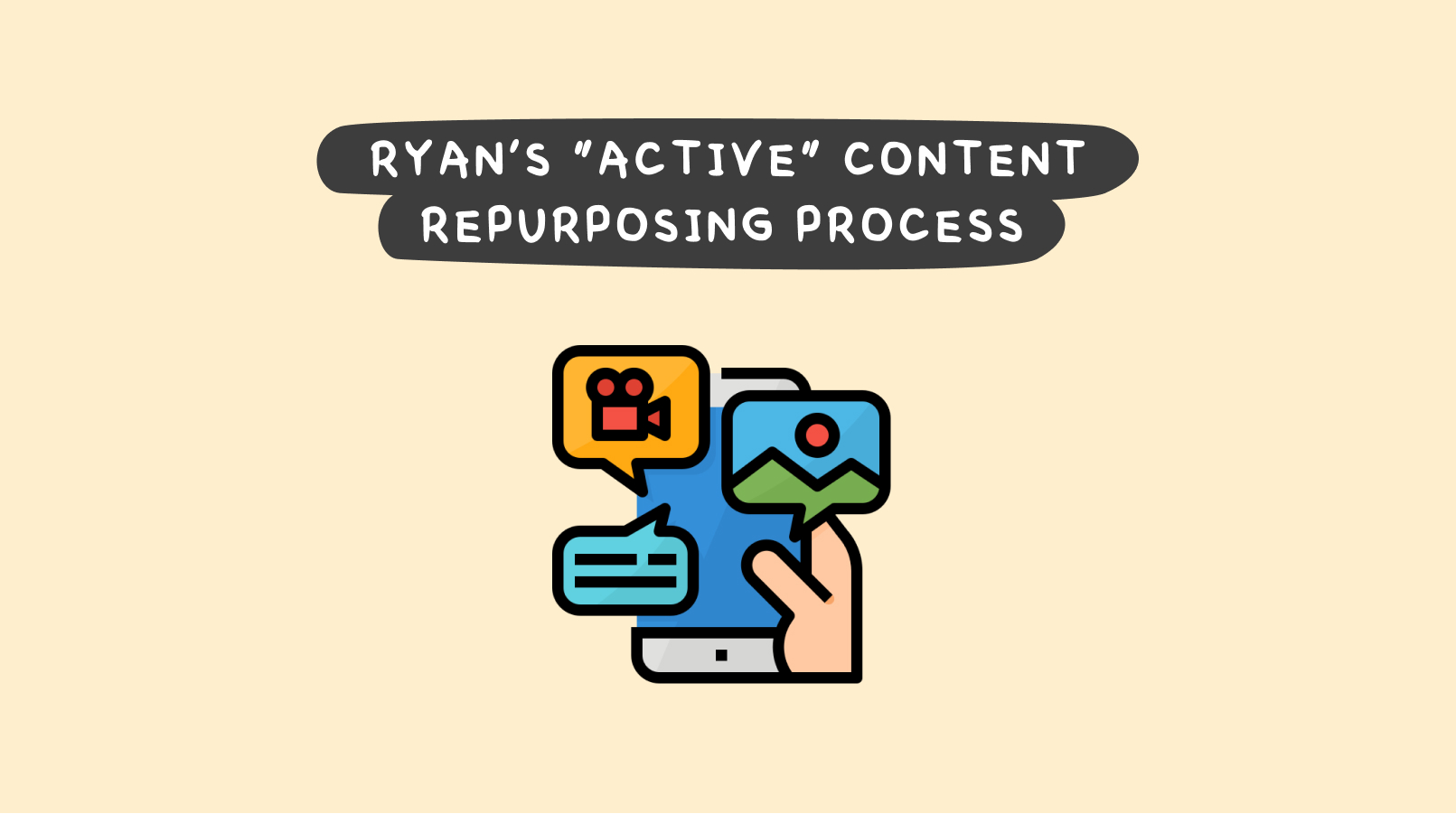 Before I continue, I want to invite you to subscribe to Marketing Powerups. I share new powerups cheatsheets, downloadable resources, and bonuses exclusively with subscribers. If you're already in, I appreciate you, friend!
---
Marketing teams often wait too late to repurpose a piece of content. By the time they've created all the extra repurposed content, it's already too late. So not only does the new repurposed content fail, it throws off your publishing cadence because resources have been diverted to something new.
Ryan calls this a "reactive" approach to content repurposing.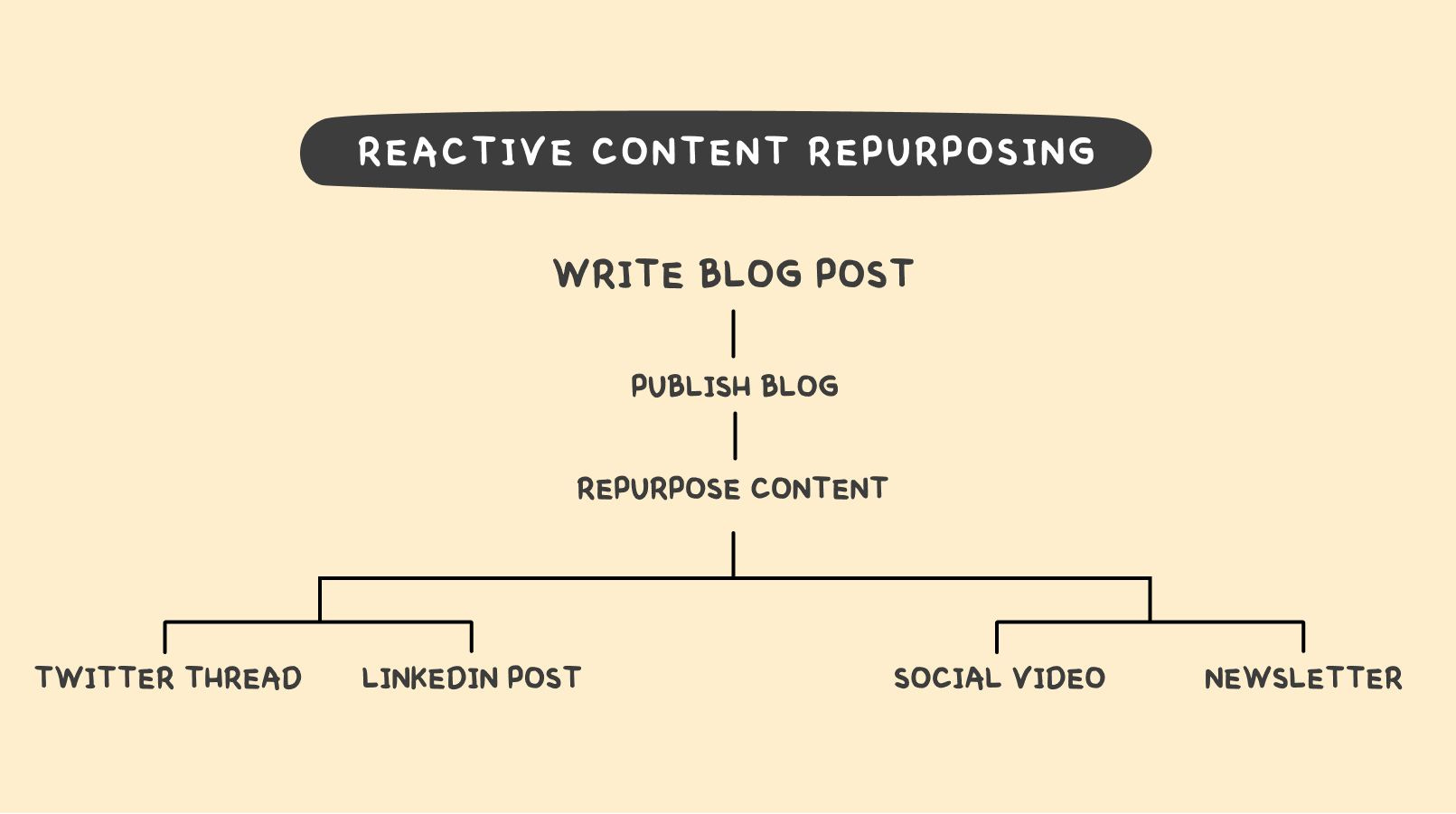 Instead of waiting until after you publish a piece of content, you start repurposing while you're creating the original piece of content. Then you publish the repurposed content at the same time, or around the same time, as the original asset.
He calls this "Active" Content Repurposing:
Brief the blog post.
Write the blog post.
While writing the post, you repurpose it into other types of content (Twitter thread, LinkedIn post, social video, newsletter).
Publish the blog post.
Publish the repurposed pieces of content.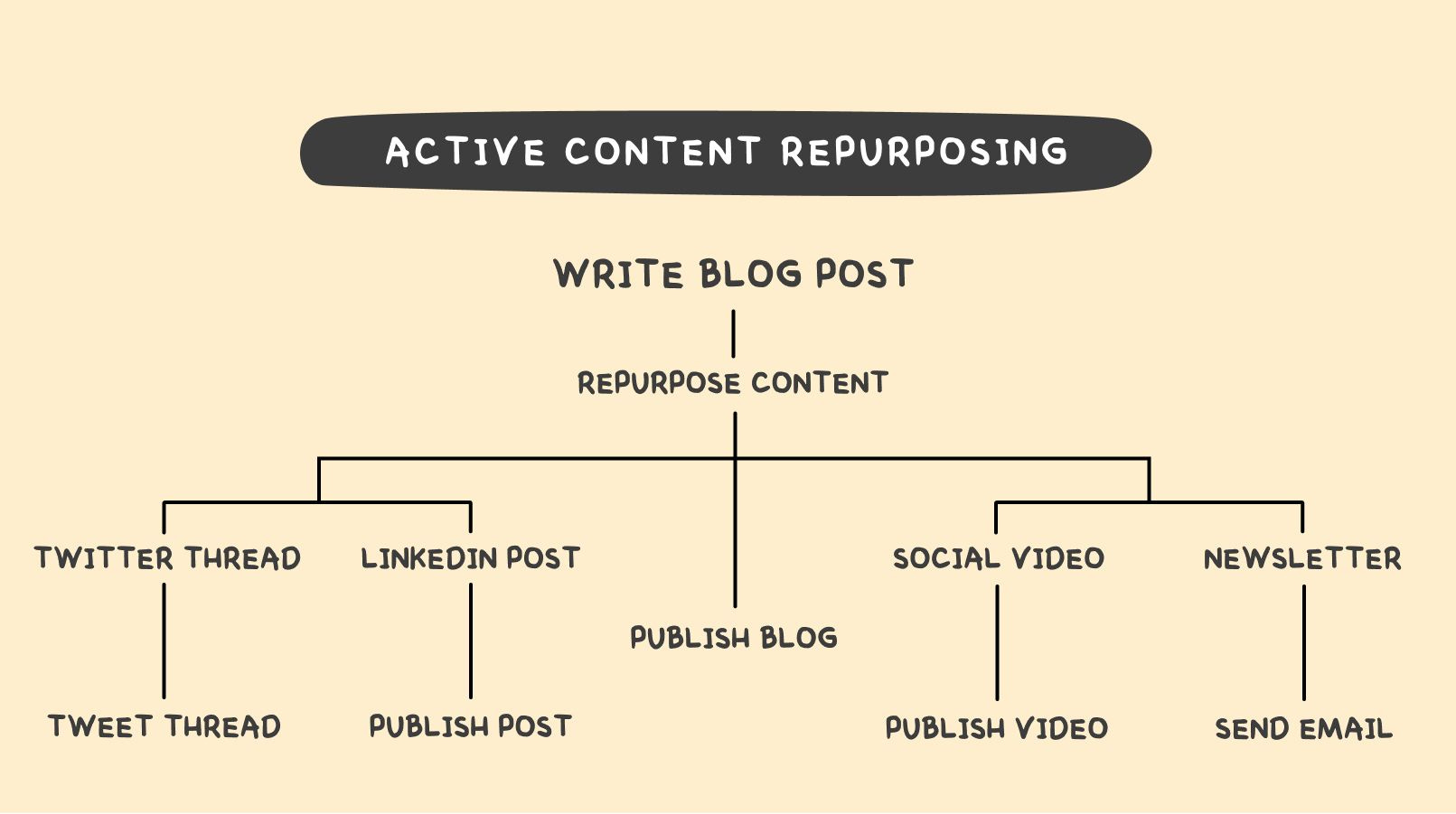 This approach has two benefits:
It helps you share your message across multiple channels simultaneously, increasing the likelihood of your ideal audience seeing it.
It helps your team keep a consistent publishing schedule instead of randomly pushing out repurposed content when they finish it.
According to Ryan, the most important thing about Active Repurposing is having confidence in your content. You can't second guess your content's value to your readers or followers.
Otherwise, why are you publishing it in the first place?
But, obviously, you probably wouldn't want to repurpose every content into everything. It's why Ryan created the Content Repurposing Menu.
For each piece of content, you can pick from a list of other types of content to repurpose into. You can assign who is responsible for the additional work and how many hours it'll take.
---
🔖 The free powerups cheatsheet
Ryan goes through the "Active" Repurposing Process more in-depth in the latest episode of the Marketing Powerups show.
You'll learn the following:
What's wrong with a "reactive" approach to content repurposing?
How Ryan repurposes content using his "Active" Repurposing Process.
A real-world example of Ryan's repurposing process.
One piece of advice that accelerated Ryan's marketing career.
Listen to the episode on Apple Podcast and Spotify now, or watch it on YouTube.
As an exclusive free perk for Marketing Powerups subscribers, I've created a powerups cheatsheet you can download, fill in, and apply Ryan's Active Repurposing Process.
You can download and make a copy of it here (a direct link with no email required).
If you enjoyed this, could you help me share the word about Marketing Powerups? Share or forward Marketing Powerups to a friend or colleague:
Thanks for all of your help!
---
🎖 Sponsored powerup
Thank you to the sponsor of the Marketing Powerups show and newsletter— 42/Agency.
Founded by my good friend, , 42/Agency is my #1 recommended demand gen agency for SaaS to help you drive demos and signups. They've worked with fast-growing B2B SaaS companies like ProfitWell, Teamwork, Sprout Social and Hubdoc to build a predictable revenue engine.
Read some of their spicy takes in their newsletter  about freemium, inbound marketing, and category creation—then schedule a free consultation.
---
That's all for now, friends!
Have a powered-up day,
Ramli John
👋 Say hello on Twitter and LinkedIn
---
---
If you found this helpful, would you share the love by tapping the heart below? ❤️

Written by