How Adobe 3x its organic traffic in 23 months
Marketing Powerup #28: Kevin Indig, Former Director of SEO at Shopify, reveals Adobe's 3-part SEO strategy that unlocked growth.
Today's Marketing Powerups include:
The 3-part SEO strategy that unlocked Adobe's growth.
101+ landing page copywriting and design examples.
Moz's Whiteboard Friday about ChatGPT and AI.
10 tips to make your webinar better.
Bluesky vs. Twitter: who will win?
Ready? Let's go!
---
⭐️ Adobe's 3-part SEO strategy
Adobe's monthly organic traffic was flat for 9 years. Then, it tripled to 30.2 million in just 23 months.
Today, Kevin Indig (Growth Advisor and Former Director of SEO at Shopify) uncovers and shares the 3 parts of the SEO strategy that unlocked that growth.
You can also watch it now on YouTube.
Before I continue, I want to invite you to subscribe to the Marketing Powerups YouTube channel. You'll be the first to know about new, value-packed, and entertaining videos that will help power up your marketing.
1. Adobe expanded its free tools. 🛠️
Digging into Ahrefs, you see that Adobe's top 10 pages offer free tools like:
Image resizer
Merging PDFs
Logo generator
Compressing PDFs
Turning JPGs into PDFs
Changing PDFs to Word
Imagine background remove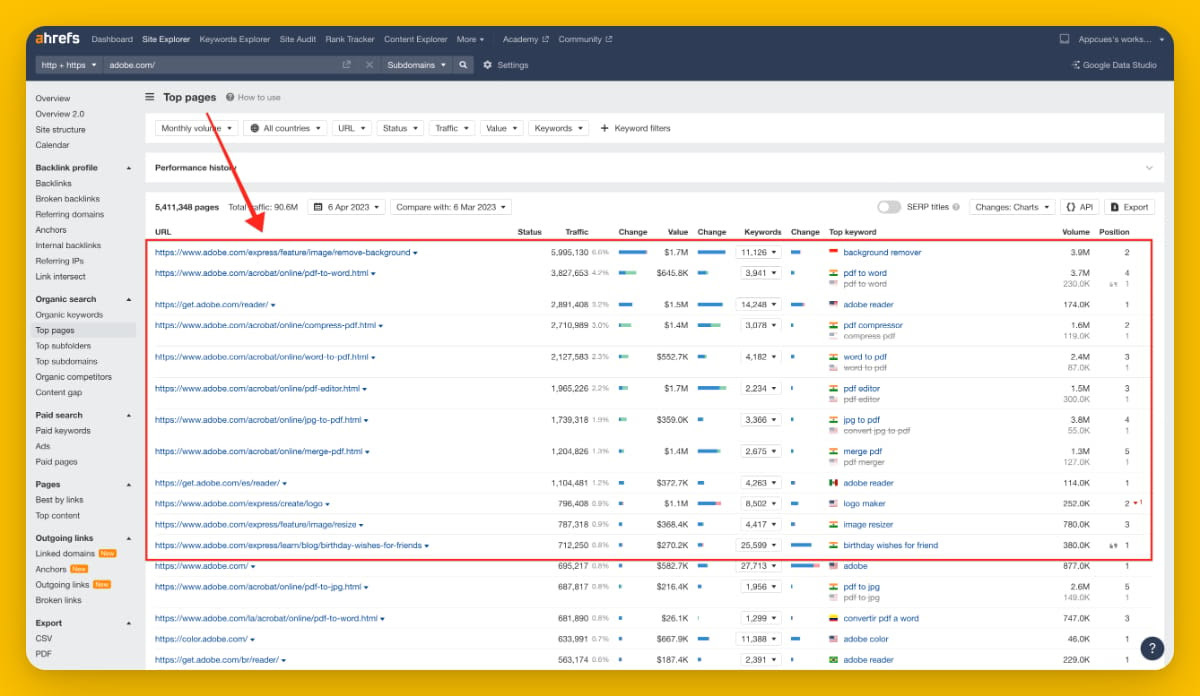 Why would they give away tools that they can charge for?
It's to capture traffic from keywords like:
"Free image background remover"
"Convert PDF to Word"
"Free Logo Maker"
For all of that above, they appear in the top 3!
In 2021, they doubled down on this strategy by offering a free online photo and design tool that competes with Canva called Adobe Express. It now draws over 13.9 million organic monthly visitors!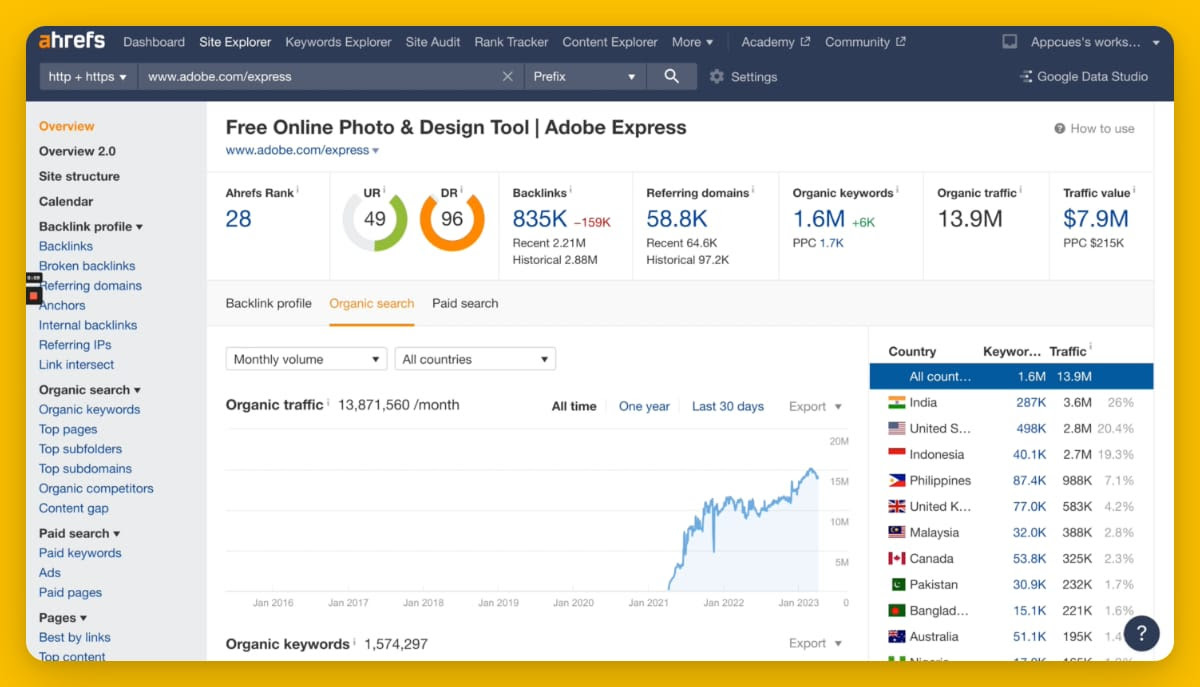 2. Adobe internally linked related pages into content hubs. 🕸️
Rather than a time-sorted blog, Adobe created content hubs for every product with use cases, tutorials, landing pages, and tips.
For example, the Acrobat content hub (/acrobat) has over 850 pages of landing pages, blog articles and tutorials.
It drives 1.9 million non-branded organic visitors in the US alone.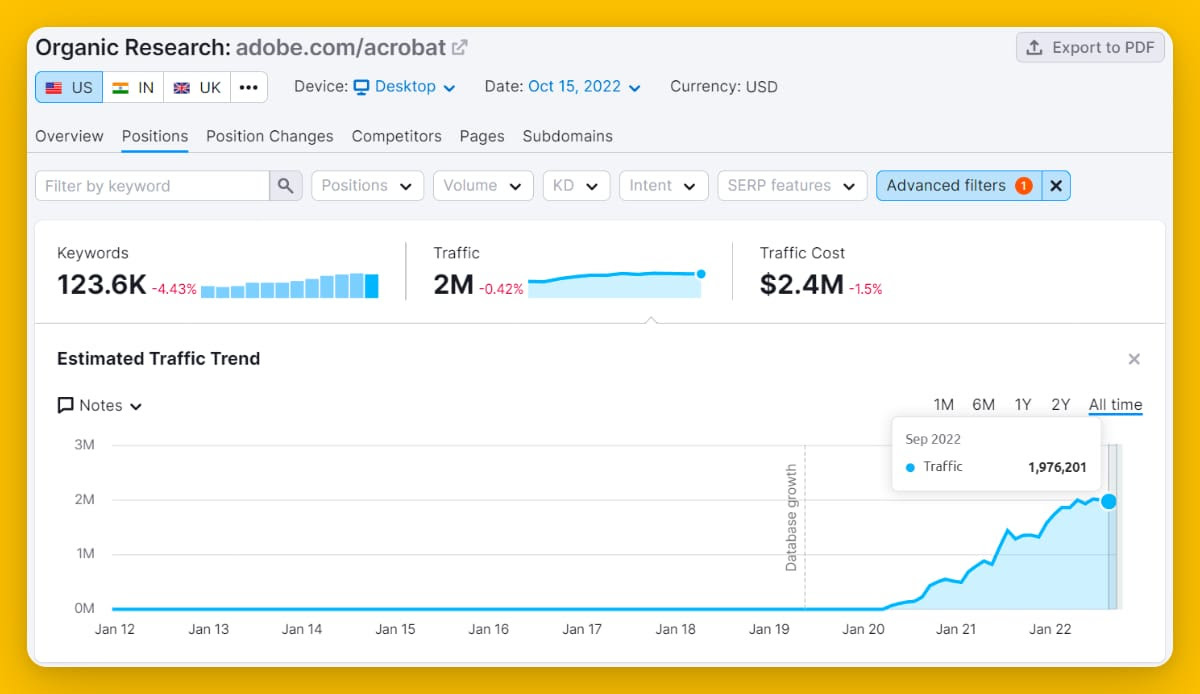 Why do content hubs work?
Since all the relevant information is close together, the experience for users is much smoother. They stay on-site longer.
This results in a stronger Topical Authority, arguably one of the most critical ranking factors for SEO.
3. Adobe provided a one-stop location for stock design resources. 🎨
Users can find stock photos, vectors, videos, fonts, plugins, and more to use with Creative Cloud products in one place.
Adobe's Stock subdomain has been their biggest unlock of recent SEO growth.
In 23 months, it went from under 1M to over 10M monthly organic visitors.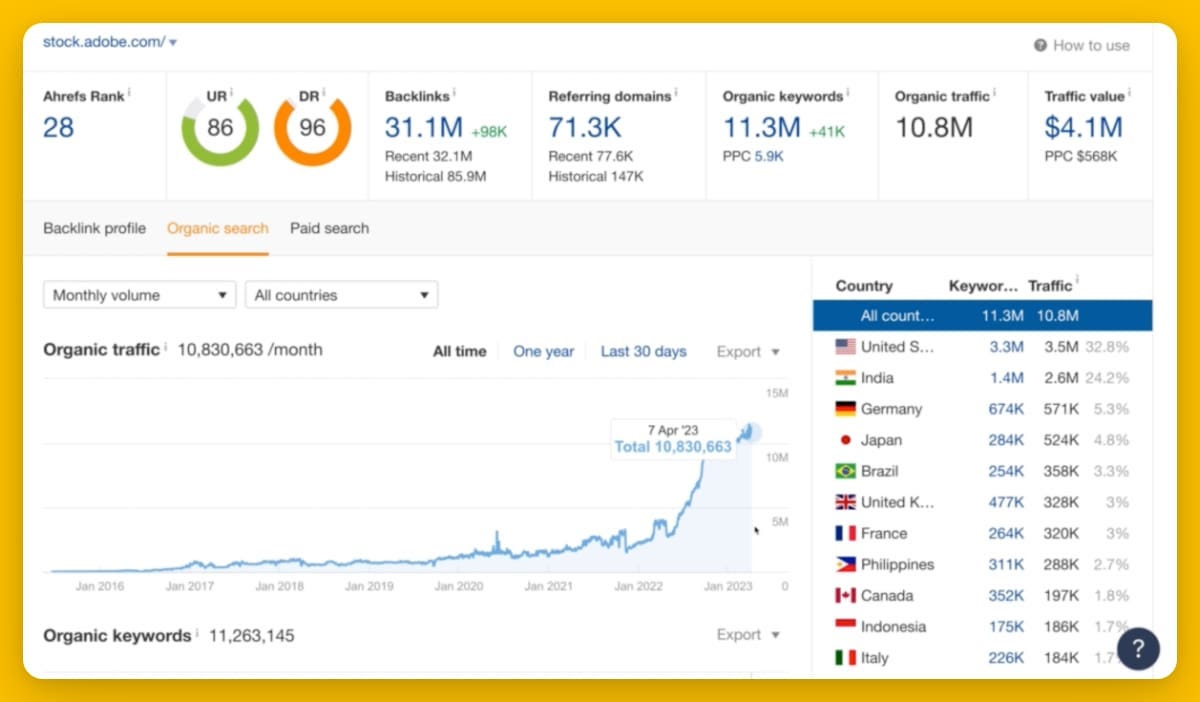 Why does it work?
Consolidating stock design resources in one place makes it easy for users to find and browse through them.
The result? they can rank in the top 3 for HARD keyphrases like:
"Plain white background images"
"Happy birthday images"
"Stock smiley faces"
---
✨ Mini powerups
Five fun-sized blurbs and links to help boost your marketing.
In this Moz Whiteboard Friday, Ross Simmonds (Founder of Foundation Marketing) digs into the impact of AI on SEO and Content. He also shares how to adapt your marketing workflows, processes, and content creation for AI.
When Elon Musk took over Twitter, chaos ensued! So, people perked up when Jack Dorsey (Founder of Twitter) backed a new social platform that looks similar to Twitter. Andrew Hutchinson, Head of Content at Social Media Today, breaks down the pros and cons of Bluesky over Twitter.
✨ 10 tips to make your webinars better:
Most virtual events and webinars are snore fests. Dodgy connections. Poorly prepared presenters. Bland topics. So, Jason Bradwell, Founder of B2B Better, shares 10 tips you can do before, during, and after a webinar to make it value-packed and unforgettable for people.
✨ 101+ landing page copywriting and design examples:
Sometimes, you just need inspiration! So, I love seeing curated examples like this gallery of real-world landing page copywriting inspo from successful companies. Want to boost conversion, generate more leads, or gain more sales? Get inspired now!
✨ The Last of GA4 (fun parody):
A post-apocalyptic event for all marketers is coming in a few months—GA4 migration! To poke fun at the situation, the creative team at Umault created a parody trailer in the same mood as HBO's "The Last of Us." We follow a family migrating to Google Analytics 4. 😂
---
If you enjoyed this, could you help me share the word about Marketing Powerups? Share or forward Marketing Powerups to a friend or colleague:
That's all for now, friends!
Have a powered-up day,
Ramli John
Say hello on LinkedIn and Twitter
---
---
P.S. If you found this helpful, would you share the love by tapping the heart below? ❤️

Written by