Newsletter
Anti-discount BFCM deals: How to stand out from the noise
Marketing Power-up #8: Give extra value rather than discounts.
To my American friends, Happy Thanksgiving weekend! 🦃
To non-Americans like me (I'm Canadian! 🇨🇦), it's the season for Black Friday-Cyber Monday (a.k.a. BFCM) deals.
Looking for discounts for software, TVs, computers, and toys? Now's the time to go shopping!
It seems like every business is offering some deal at this time.
The problem is that your marketing gets lost in the noise when everything is doing the same thing.
The solution: do something different by offering an anti-discount BFCM sale. By doing so, people are more likely to notice your marketing.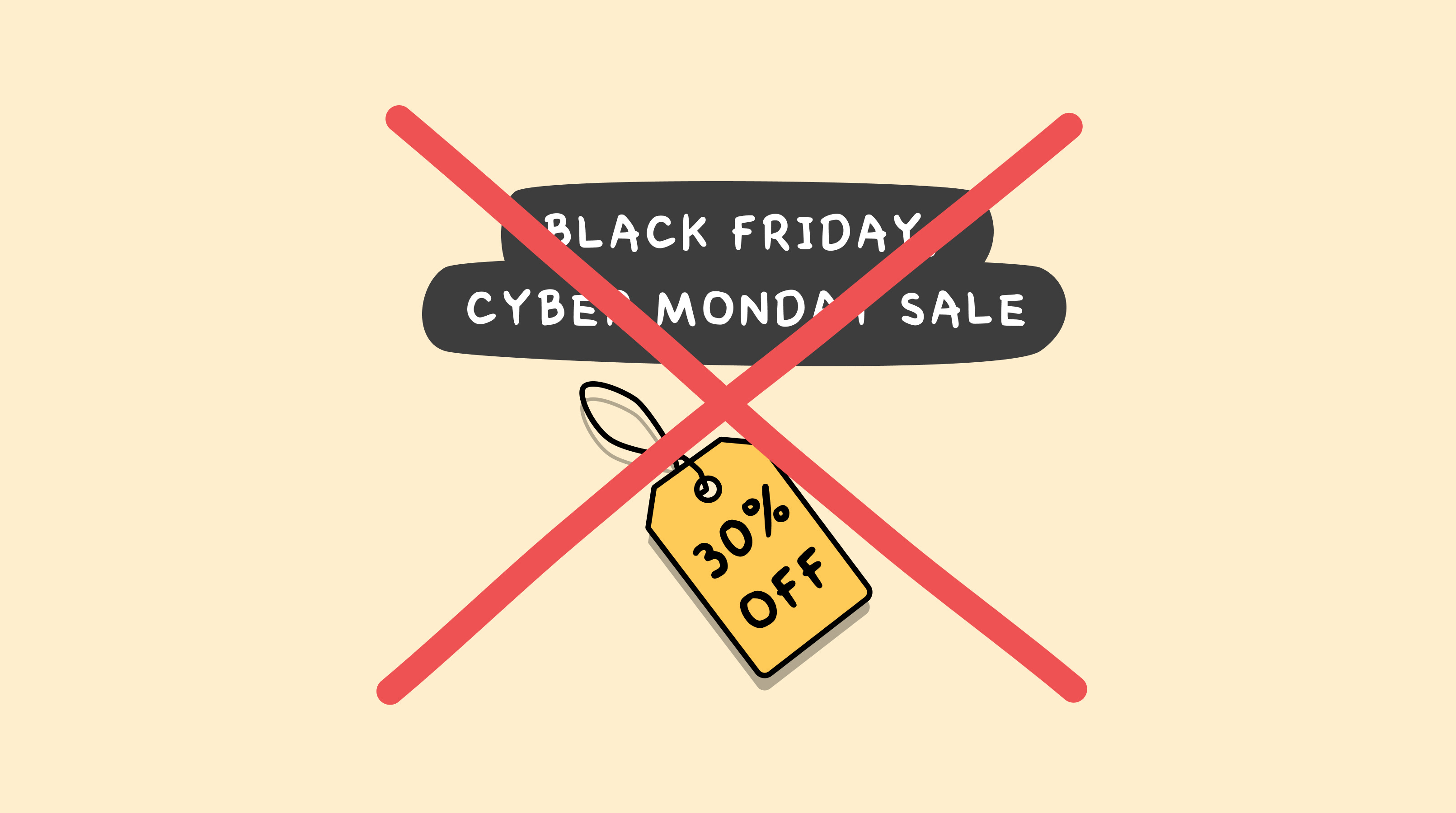 Most brands settle for the same old, lazy, and boring BFCM discounts.
The problem is that discounts often attract customers who cause the most headaches. They're more likely to submit support tickets, complain when things go wrong, and churn when the discount period is over.
So, the best marketers know how to cut through the noise, get shoppers to perk up, and open their wallets to buy without offering discounts.
Katelyn Bourgoin shares ten examples of un-ignorable Black Friday Campaign (give it some a read and some love ❤️):
I found five examples that are specifically anti-discount BFCM deals:
1. Donating to charity. 👏
Rather than offering a 20% discount, ChattyFeet donated 20% of their BFCM sales to WaterAid. So, customers are doing something good instead of getting cheap deals.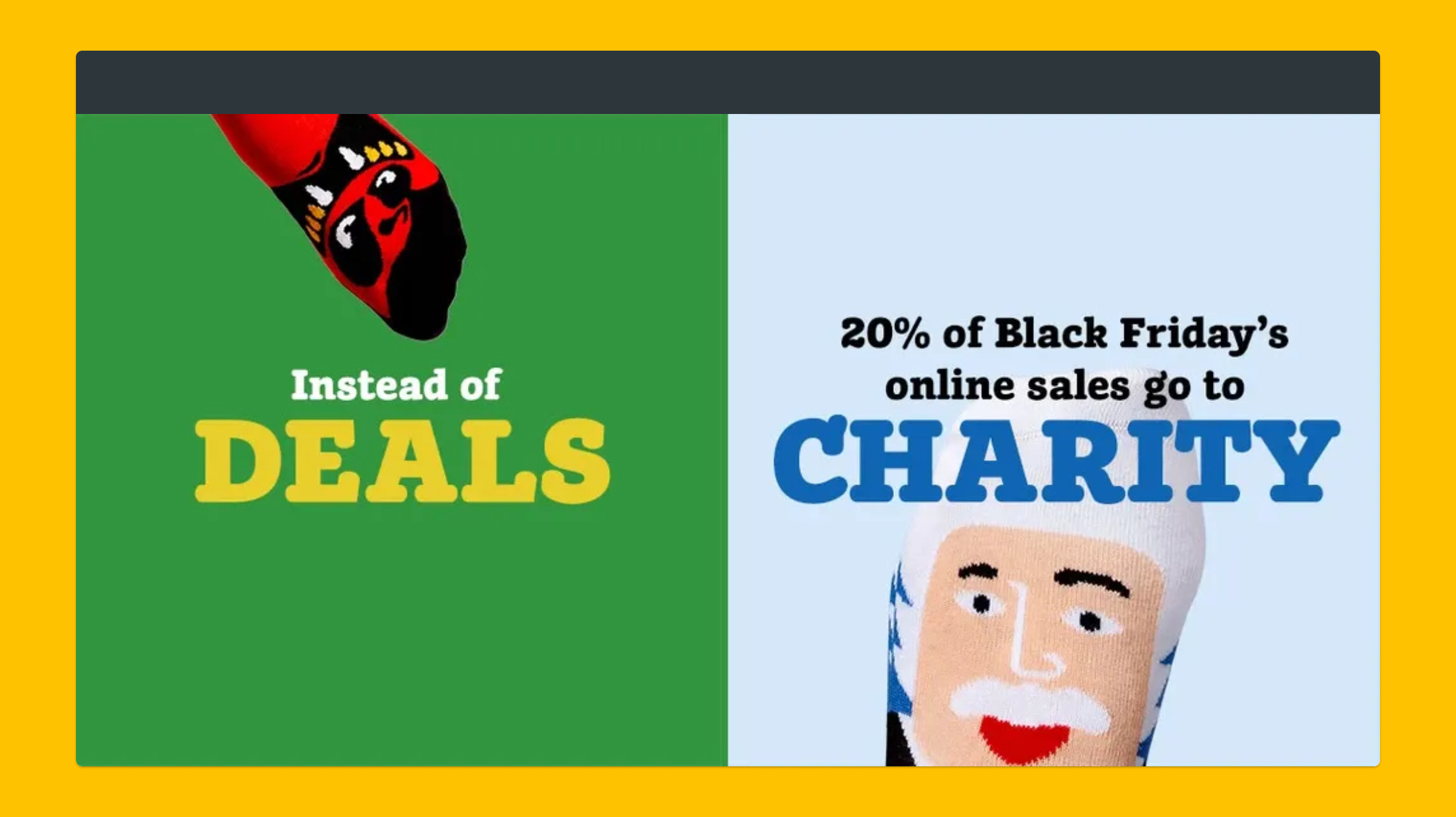 What's more interesting is how they decided which charity to donate to.
They polled their customers and fans to choose a charity from 5 options: The Prince's Trust, Oxfam, WaterAid, Traid and WWF. The majority of votes went to WaterAid.
That's such a smart way to engage your audience!
2. Raising prices. 💸
It sounds crazy, but that's what the team at Cards Against Humanity did!
Instead of offering a BFCM sale, they raise their prices by $5.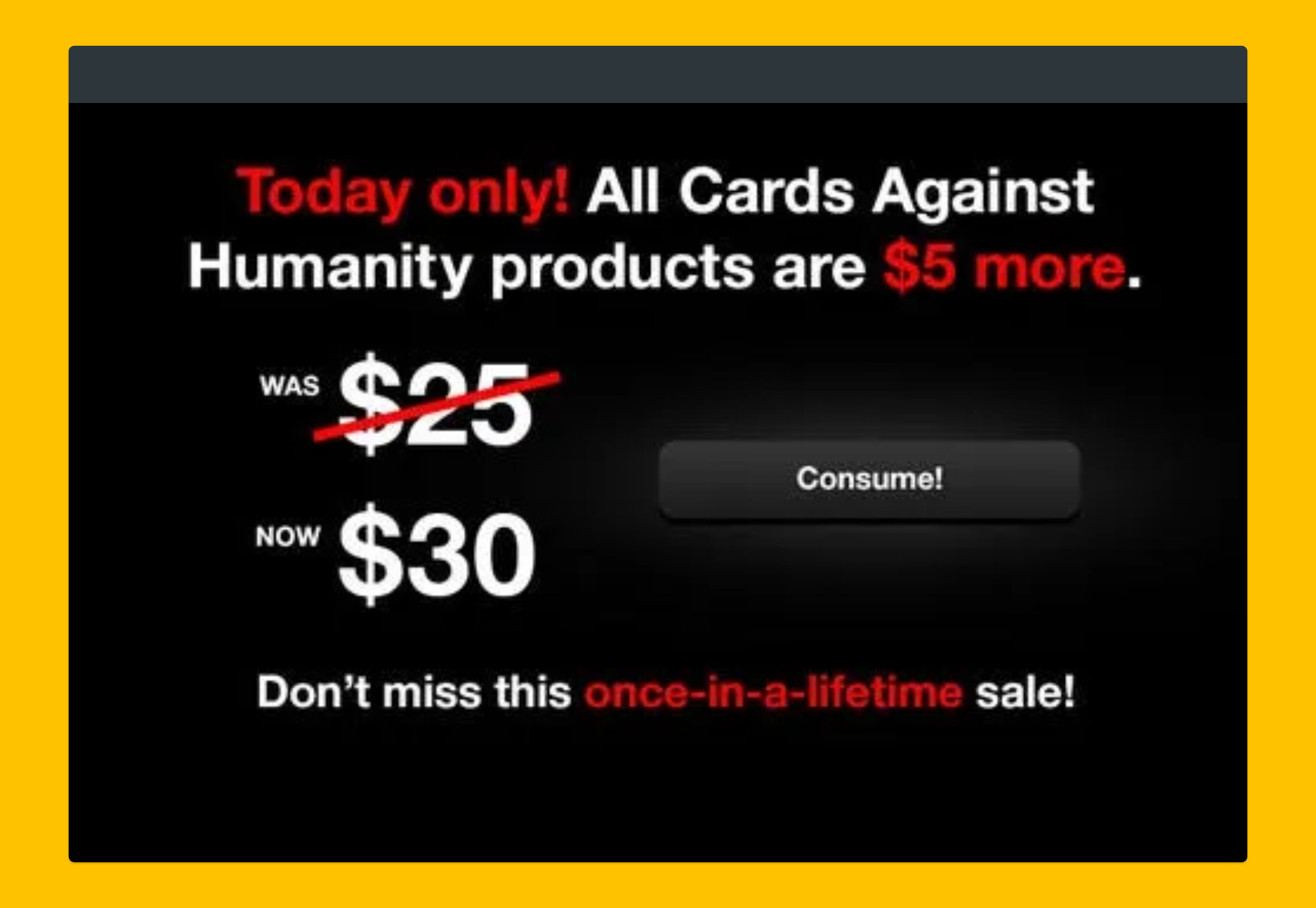 Max Temkin, the creator of Cards Against Humanity, shared that this campaign got so much social media and PR buzz that their sales spiked!
Obviously, this kind of "offer" won't work for everyone — or probably, ever again.
But it is a reminder that when marketing your product, you don't have to do what everyone else is doing and that sometimes, going loudly in the opposite direction can pay off big time.
3. Adding something more valuable than discounts. 🏆
Instead of offering a discount, you could provide customers with something more valuable, like an experience or a unique gift.
That's what Barnes and Noble did for their Black Friday campaign. They offered books signed by renowned authors to entice shoppers to buy.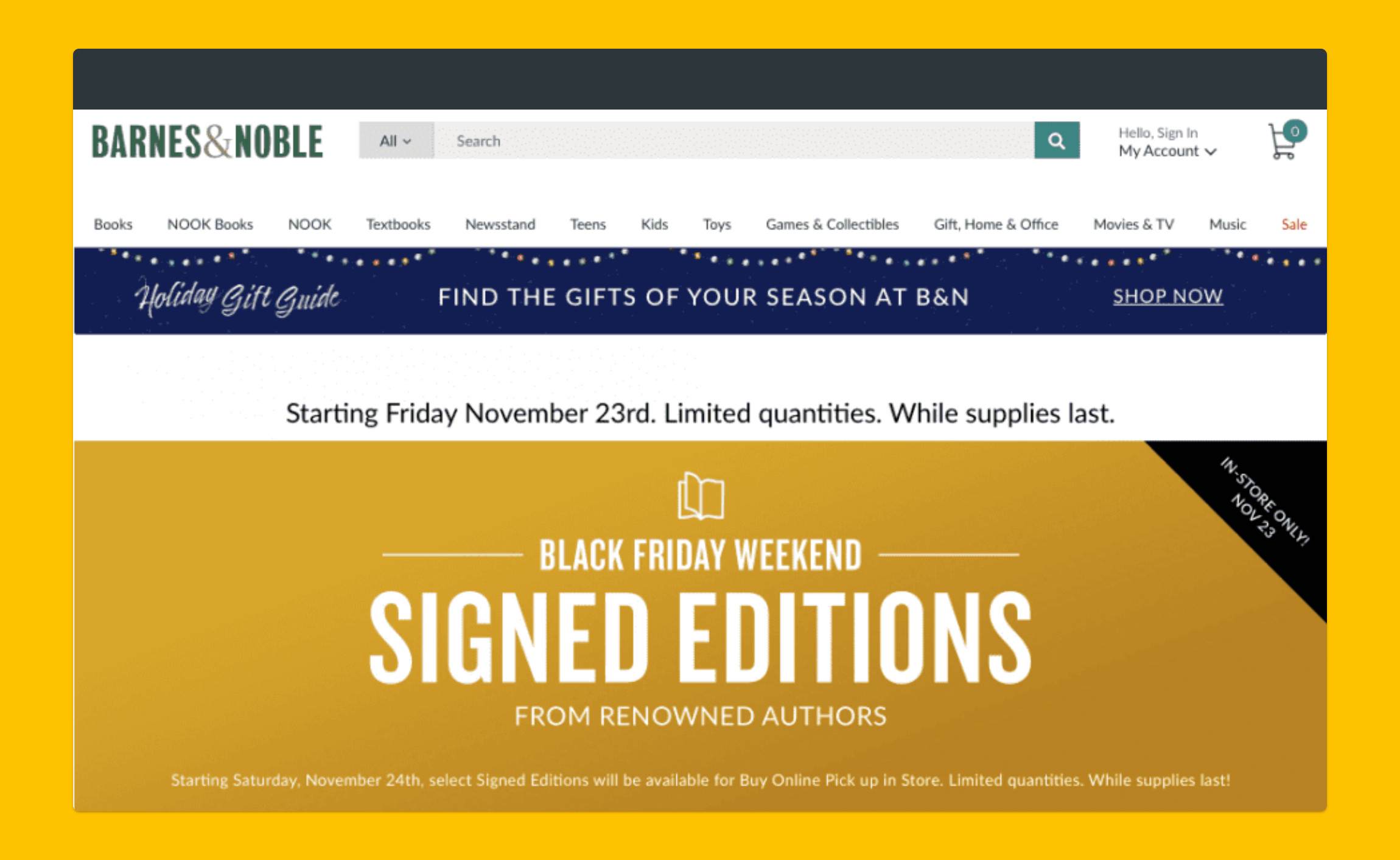 4. Shutting down stores. ❌
Here's another ludicrous BFCM campaign idea:
In 2015, REI (an outdoor apparel company) decided to close its stores during the BFCM season.
Yup, you read that right! They closed 165 stores and gave over 20,000 employees a paid day off.
The purpose was to encourage customers and employees to #OptOutside and enjoy the outdoors. REI fans shared images of themselves enjoying the outdoors on Twitter and Instagram with the #OptOutside hashtag.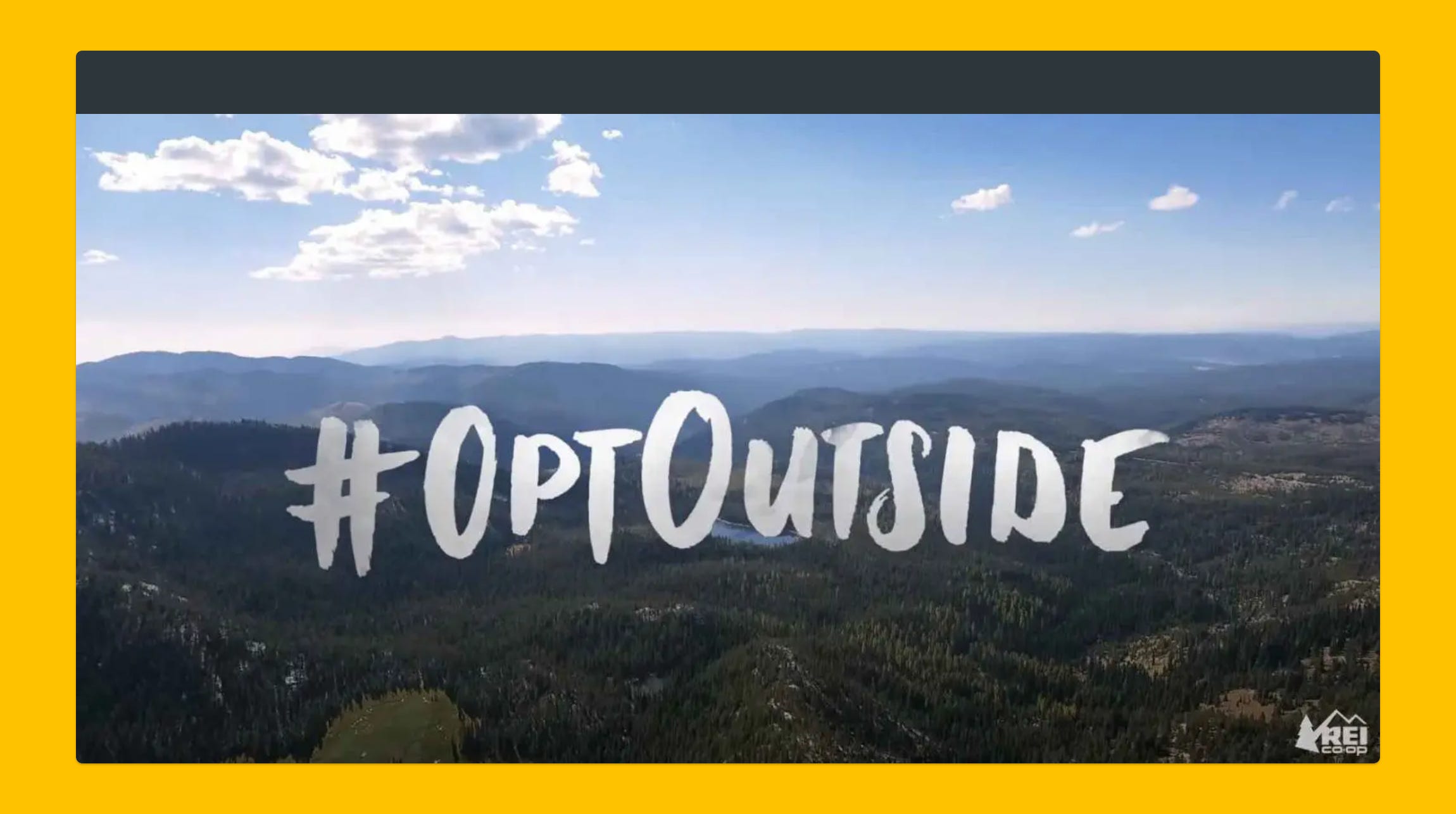 They didn't make money directly from BFCM. But they generated huge buzz and reaffirmed their company values to their employees and customers.
5. Buying back products. 💳
IKEA flipped the script for their BFCM sale by buying back their products from customers.
Their #BuyBackFriday campaign encouraged customers to sell their old IKEA furniture back to the store rather than throwing it out to a garbage landfill. In return, customers get a store credit worth 50% of the item's value.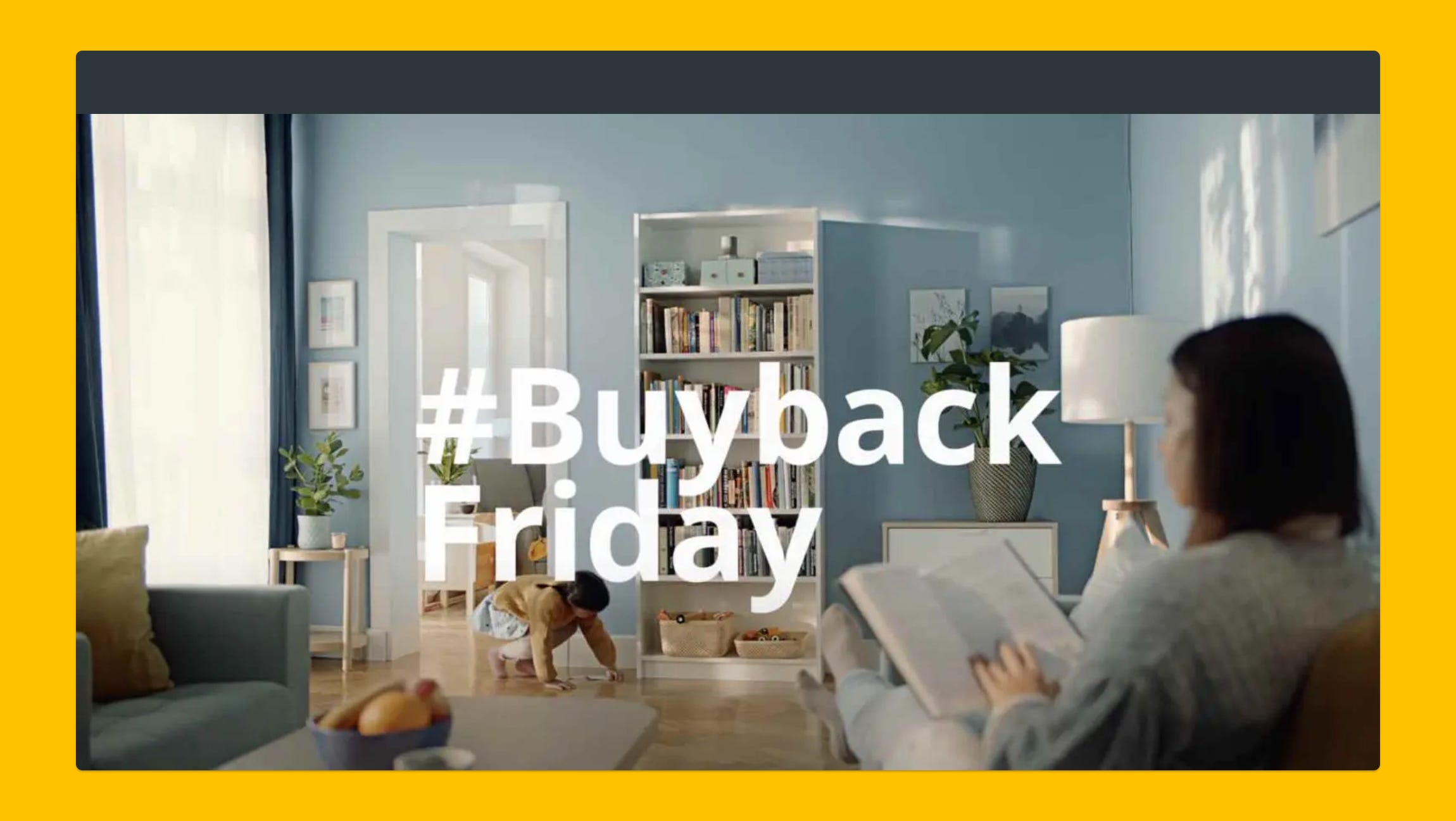 This campaign is a great way to show IKEA's effort and value for sustainability. Plus, chances are, people who sold their furniture back to IKEA end up spending more than what their store credit is worth!
Did you buy anything for BFCM? 🤔
How about you?
Did you end up buying anything for BFCM?
Let me know by replying back or leaving a comment.
As for me, I bought a few Christmas presents. Can you believe Christmas day is only 29 days away?!? 🎄
I'm sending out Christmas cards these years to family and friends. Reply back with an address, and I'll send you a handwritten Christmas card featuring me, Joanna, Zane (my 4-month-old son), and two dogs. 😄
⭐️ Mini power-ups
Fun-sized blurbs to help boost your marketing.
✨ How to build a winning SaaS marketing team: Kathleen Estreich (Facebook, Box, Intercom, MKT1) shares her advice in  for building marketing organizations from the ground up—from hiring to goal setting to getting focus and alignment among a company's board and advisors.
✨ Content marketing before product-market fit:  and  discuss what content marketing looks like before and after achieving product-market fit. Check out this podcast episode of the .
✨ An inside look at YouTube's hypergrowth phase: From 2008 to 2014, YouTube entered hypergrowth mode. Shishir Mehrotra shares the challenges Youtube faced during that time and the rituals they created to stay aligned and scale the company.
Have a powered-up day!
Ramli John
👋 Say hello on Twitter and LinkedIn
---
---
P.S. If you found this helpful, would you share the love by tapping on the heart below? And if you're feeling generous, kindly forward this to colleagues or click the share button below.

Written by