The SEO content strategy that drove $134k worth of monthly traffic
Marketing Powerup #30: Brendan Hufford, Founder of Growth Sprints, discusses his Content IP Framework to help your marketing stand out from the noise.
Today's Marketing Powerups include:
The AI-pocalypse is here. How will SEO change?
Future-proof your writing skills from AI.
Brendan Hufford's Content IP Framework.
Ready? Let's go!
---
🎖 Sponsored powerup
Thank you to our sponsor who keeps the Marketing Powerups newsletter and show free for all of you!
Today's Marketing Powerups is brought to you by 42/Agency. Founded by my good friend, Kamil Rextin, 42/Agency is my #1 recommended demand gen agency for SaaS to help you drive demos and signups.
They've worked with fast-growing B2B SaaS companies like ProfitWell, Teamwork, Sprout Social, and Hubdoc.
Read some of their insightful reads in their newsletter 42 Slash like "Account Based WHAT?"
Then, schedule a free consultation.
---
✨ Mini powerups
Five fun-sized blurbs and links to help boost your marketing.
✨ What's ahead for Bard: More global, more visual, more integrated:
If you missed the announcement, AI-pocalypse is coming to Google. Big bad Bard (Google's AI chatbot) is getting even bigger—hopefully not badder. It's getting outfitted with new features like rich text answers, images in questions, coding upgrades, and integrations with Docs, Maps, and Google Drive.
✨ What does Google's I/O announcement mean for the future of SEO?
The Letterdrop team does a good job breaking down the changes to the SERP and the implications for SEO. It also talks about what we can do to prepare (some of which are in flight already). My biggest takeaway: the old way of doing keyword research to rank on the SERP will be less effective. Focus on sharing new ideas, opinions, case studies, customer stories, and original research.
✨ 5 resources to future-proof your writing skills from AI:
AI is coming for your job, content marketers…. well, not really. It's just a tool, ain't it? If AI could replace your job, you're probably not good at it. 😂 I kid! But Erica Schneider wrote an insightful Twitter thread on 5 resources to future-proof your skillset as a content marketer and writer.
✨ The future of media: AI, niches, and brands [podcast episode]:
Kevin Indig and  discusses in the latest  show the future of media in the wake of the near-bankruptcy of Vice and the shutdown of BuzzFeed News. The gist: media publishers are going to have it hard in 2023. It's an opportunity for solo-creators and niche media companies to step in.
✨ A customer-led approach to predictable, recurring revenue [Book]
Suppose I had to read one book when I was starting my marketing career. In that case, it'd be the new Forget the Funnel that Gia Laudi (former VP of Marketing at Unbounce) and Claire Suellentrope (former Director of Marketing at Calendly) wrote. I'm not sponsored or affiliated with them. I'm just a big fan! I'm giving away 5 copies for free with the accompanying workbook. The first five people who reply back with a 👋 to get it!
---
📰 Newsletter powerup
Another marketing newsletter that will powerup your marketing
by  is a must-read newsletter for marketers. As the former VP of Marketing at HelpScout and VP of Demand Gen at G2, he's the real deal!
My favorite one has to be his post about how B2B marketing isn't boring, you are.
If you do subscribe, tell Adam I sent you, will ya? 😄
Friday Growth NoteMy thoughts on marketing and growth. By Adam Goyette
---
⭐️ Brandan Hufford's Content IP Framework
If you want to rank a piece of content for SEO, you'd usually do keyword research to figure out what phrases you want to rank for.
Want to generate demand with SEO?
Cool, the first step for most marketers is to do keyword research.
But Brendan Hufford, Founder of Growth Sprints, says that doing that is no longer effective anymore:
Would you rather have this clickstream data from Chrome extensions and third-party sources governing your content strategy, or talking to your customers? It's clear that creating content that resonates with your audience is how you win with SEO today.
It's why Brendan came up with the Content IP Framework.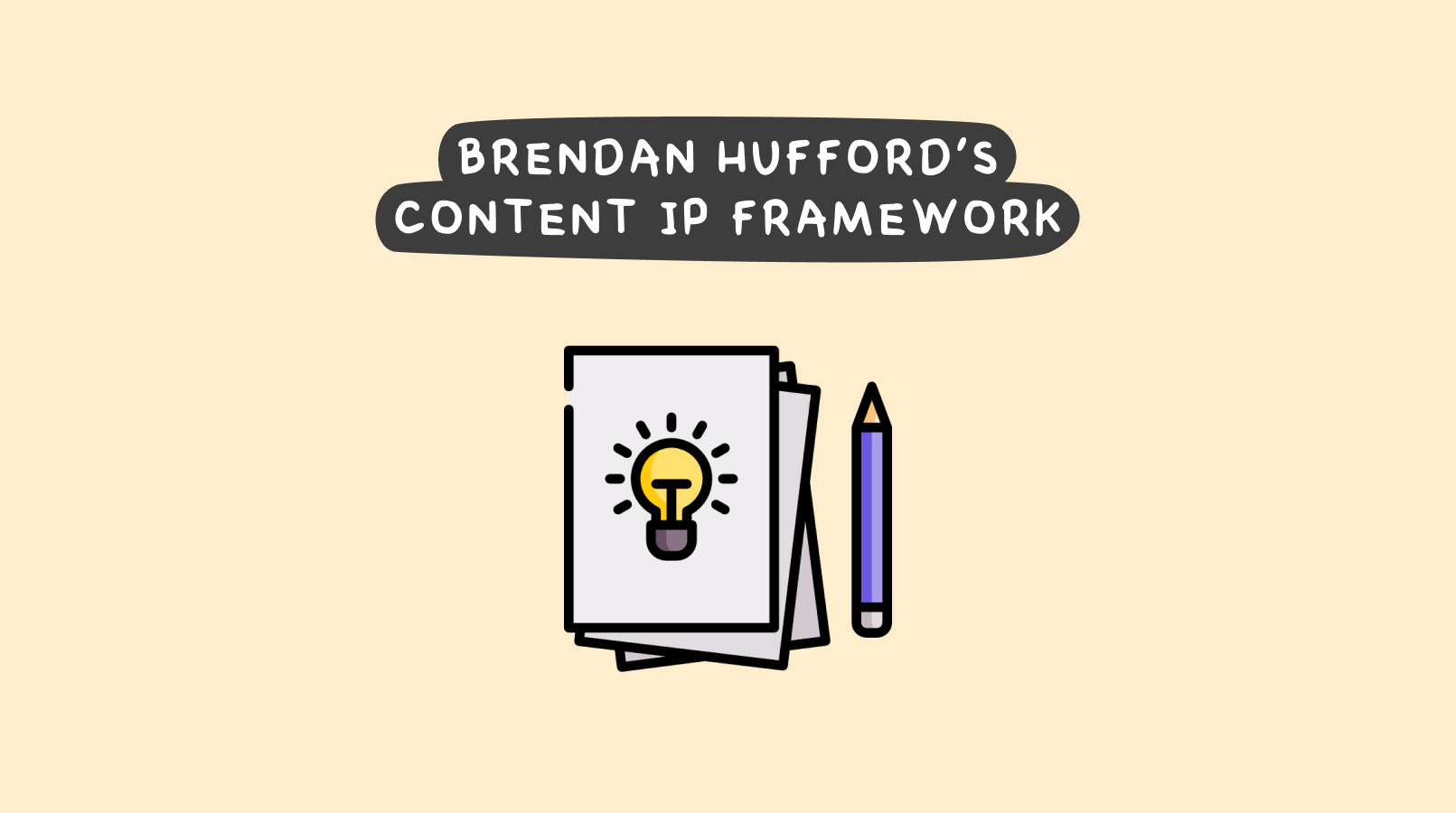 Brendan Hufford's Content IP framework is based on the idea that the old way of generating demand through keyword research is no longer effective. Instead, marketers should focus on creating intellectual property around the problems their customers have.
Brendan argues that by focusing on naming and addressing specific problems that customers have, rather than generic educational content, marketers can create more effective content that drives conversions and builds brand affinity.
Example: Beardbrand's scent confusion 🧔‍♂️
One example Brendan shares is with Beardbrand, a men's grooming company. They coined the term "scent confusion," which occurs when a person uses multiple grooming products with different fragrances, leading to a clash of scents.
This can be off-putting and may even lead to discomfort for the person wearing the scents and those around them.
Here's a video of Eric Bandholz, Beardbrand's founder, describing what it is:0
Did you hear what Eric said? He's on a mission to remove scent confusion. If you look at the comments on that YouTube video, people totally get it!
Beardbrand's campaign around scent confusion has been met with praise and appreciation from customers and industry experts.
By raising awareness for "scent confusion" and offering practical solutions, Beardbrand is helping men improve their grooming experience and scent profile. This campaign solidifies its position as a men's grooming industry thought leader.
How to Implement the Content IP Framework 🛠
Here are the steps to implement Brendan Hufford's Content IP Framework:
Identify your ideal customers: The first step is to clarify who your ideal customer is. This means understanding their pain points, their needs, and their motivations. You should also deeply understand their buying journey and the channels they use to find information.
Discover customer problems: Once you know your ideal customer, you have to discover their problems. This involves talking to them, conducting surveys, and researching to understand their challenges. You should look for patterns and try to identify the most common problems your customers have.
Name the problem: Once you've identified a problem, give it a name. This is the intellectual property part of the framework. By naming the problem, you're giving your customers a way to describe the issue and making it easier for them to find solutions. It also helps you stand out from competitors who may not have named the same problem.
Create content: Once you've named the problem, it's time to create content around it. This content should be educational and informative rather than promotional. It should help your customers understand the problem and offer solutions. You can create blog posts, videos, podcasts, eBooks, and other types of content.
Promote your content: Once you've created it, it's time to promote it. This involves using SEO, social media, email, and other channels to get your content in front of your ideal customers.
By following these steps, you can create a powerful content strategy that improves your SEO and online visibility and helps you build strong relationships with your customers and drive long-term business growth.
The results 🏆
Brendan provides examples of how the framework has helped his clients. One example is a DevOps company that struggled to get people to sign up for their free trial. After using the framework to identify and codify the customer's problem, they created a narrative around the problem and created a glossary.
It resonated with them so well that it drove over $134,000 worth of monthly traffic. This content strategy generated revenue for the company and built its authority and reputation in the industry.
The powerups cheatsheet 🔖
As an exclusive free perk for Marketing Powerups subscribers, I've created a Powerups Cheatsheet you can download, fill in, and Brendan's Content IP Framework.
You can download and make a copy of it here (a direct link with no email required).
If you want to dig deeper into this framework, I chatted with Brendan about it. You'll also learn the following from our conversation:
The four parts of Brendan's growth methodology.
How to drive a ton of qualified signups using the Content IP framework.
The process behind Brendan's growth sprint process.
How being prolific can give you a leg up in your career.
Listen to the episode on Apple Podcast and Spotify now, or watch it on YouTube.
---
If you enjoyed this, could you help me share the word about Marketing Powerups? Share or forward Marketing Powerups to a friend or colleague:
That's all for now, friends!
Have a powered-up day,
Ramli John
Say hello on LinkedIn and Twitter
---
---
P.S. If you found this helpful, would you share the love by tapping the heart below? ❤️

Written by