How to create thought leadership content AND drive organic traffic
Marketing Powerup #24: Erin Balsa, Founder of Haus of Bold, shares her content sweet spot framework
Happy Saturday, my friends!
In today's Marketing Powerups:
How adding negative terms in your headline can boost conversions.
Erin Balsa's content sweet spot framework (plus a free cheatsheet).
A product-led marketing playbook from OpenView Partners.
How to create scroll-stopping content [new YouTube video].
A meditation resource for stressed-out marketers.
Ready? Let's go!
---
🎖 Sponsored powerup
Today's Marketing Powerups is sponsored by 42/Agency.
Founded by my good friend, Kamil Rextin, 42/Agency is my #1 recommended demand gen agency for SaaS to help you drive demos and signups.
They've worked with fast-growing B2B SaaS companies like ProfitWell, Teamwork, Sprout Social and Hubdoc.
Yeah, they're legit!
Read some of their spicy takes in their newsletter 42Slash about freemium, inbound marketing, and category creation.
Then, schedule a free consultation.
---
✨ Mini powerups
Fun-sized blurbs and links to help boost your marketing.
✨ Using negative terms in your headlines: According to this study, stories with more negative terms in the headline drive more clicks, while positive terms decrease engagement. Take it for what it is. I'm usually a positive guy in-person and online. So I doubt I'll become the Simon Cowell of marketing anytime soon!
✨ Meditations for marketers: 2023 is a really terrible year to be a marketer. Team morale is in the toilet with mass layoffs and budget cuts. Marc Thomas, Head of Growth at Powered by Search, created something to help other marketers try to smile and find a small moment of humor in the year—a meditation resource for marketers. I love Marc's creativity and thoughtfulness!
✨ Product-led marketing playbook: , Operating Partner at OpenView Ventures and author of  newsletter, breaks down the marketing playbook of the top product-led companies such as Snyk, Airtable, and Webflow in . The product-led marketing playbook focuses on two primary strategies: organic search and product virality.
---
🎥 Video powerup
New on the Marketing Powerups YouTube channel: How to create scroll-stopping content.
In this six-minute video, I share Katelyn Bourgoin's 6 science-backed tips for creating scroll-stopping content that will help you engage your audience and get your message heard.
I invite you to subscribe to the Marketing Powerups YouTube channel. You'll be the first to know about new, value-packed, and entertaining videos that will help power up your marketing!
Next week, I'll share a Marketing Books Powerup, a video recap of one of my favorite business books—April Dunford's Obviously Awesome!
---
⭐️ Erin Balsa's content sweet spot framework
Some people think that Thought Leadership Content and SEO Content are like oil and water—they don't mix.
The reality is far from the truth!
Erin Balsa, founder of Haus of Bold and former marketing director at The Predictive Index, discusses why the best thought leadership content helps your content rank higher on the search results page:
People often differentiate thought leadership and SEO into two buckets. It's a myth that you can't accomplish thought leadership and SEO within one article or holistic content strategy. You can create thought leadership content that also rank for keywords on the search results page.
To help you build thought leadership content that ranks on the search results page, Erin Balsa created The Content Sweet Spot Framework.
People seem intent on treating these as separate things completely:
SEO content: keyword-focused content meant to rank on the search results page.
Thought leadership content: blog articles based on subject matter interviews or strategic narratives, which are often written without the goal of ranking for a keyword.
Product-led content: shows people how to use your solution to solve their problems.
Erin Balsa argues that these types of content don't have to be mutually exclusive. SEO is simply a distribution channel at its core.
Don't set out to write "SEO content" or "thought leadership content." Set out to write the best content on the internet.
The best content the searcher finds should be designed to rank, yes, but primarily it should convey your unique perspective, your originality, and, at times, your product, or it'll never be memorable, engaging, or high-converting.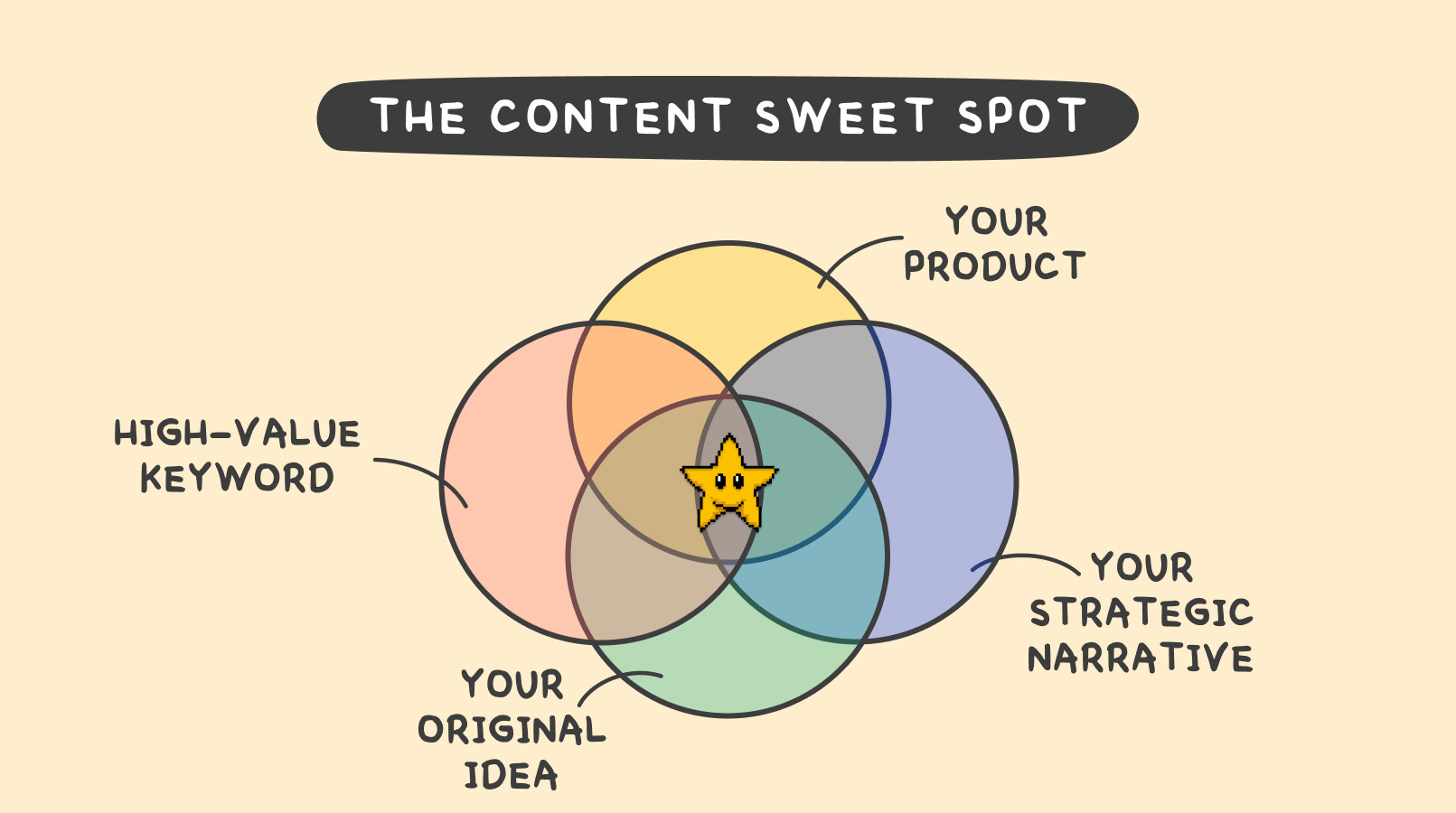 Erin gives these three quick notes about the content sweet spot framework:
"Your original idea" could be proprietary data or original research. It could also be a new framework or discipline through which people can solve problems.
"High-value keyword" won't apply 100% of the time. Not every original idea aligns with a search term. Not every buyer persona uses Google to find answers to their work problems. Not every business uses SEO as a distribution channel. But if you could, find that happy medium between extreme short-tail keywords (e.g., "yoga") and extreme long-tail keywords (e.g., "online yoga classes for 35-year-old me").
"Your product" doesn't mean every content piece needs to show people how to use your product to solve their problems. Some pieces will. Others will map back to your product (e.g., you sell sensors, so you write about the future of sensors without mentioning your brand).
---
🔖 The free powerups cheatsheet
Erin digs deeper into the content sweet spot framework in the latest episode of the Marketing Powerups show, where you'll learn:
What is "thought leadership"?
Why great thought leadership content is great for SEO.
The 4-element Content Sweet Spot Framework.
How Erin transitioned from an in-house marketer to a business owner.
Listen to the episode on Apple Podcast and Spotify now, or watch it on YouTube.
As an exclusive free perk for Marketing Powerups subscribers, I've created a powerups cheatsheet you can download, fill in, and apply Erin's content sweet spot framework.
You can download and make a copy of it here (a direct link with no email required).
If you enjoyed this, could you help me share the word about Marketing Powerups? Share or forward Marketing Powerups to a friend or colleague:
That's all for now, friends!
Have a powered-up day,
Ramli John
👋 Say hello on Twitter and LinkedIn
---
---
P.S. If you found this helpful, would you share the love by tapping the heart below? ❤️

Written by