Jeremy Moser's 3-part copywriting framework
Marketing Powerup #18: Hook people with your content, teach them something valuable, and connect with them on an emotional level.
If cash is the lifeblood of a business, then the heart of marketing is copywriting.
Get it right, and you have a higher chance of grabbing people's attention and turning them into customers! 💸
Today, Jeremy Moser shares the 3-part copywriting framework that's helped him:
Grow his Twitter followers from 300 to over 90,000 in 8 months
Make millions of dollars for his clients at uSERP.io
Become one of Forbes 30 under 30 in Marketing and Advertising!
The three parts of Jeremy's copywriting framework are hook, lesson, and emotion.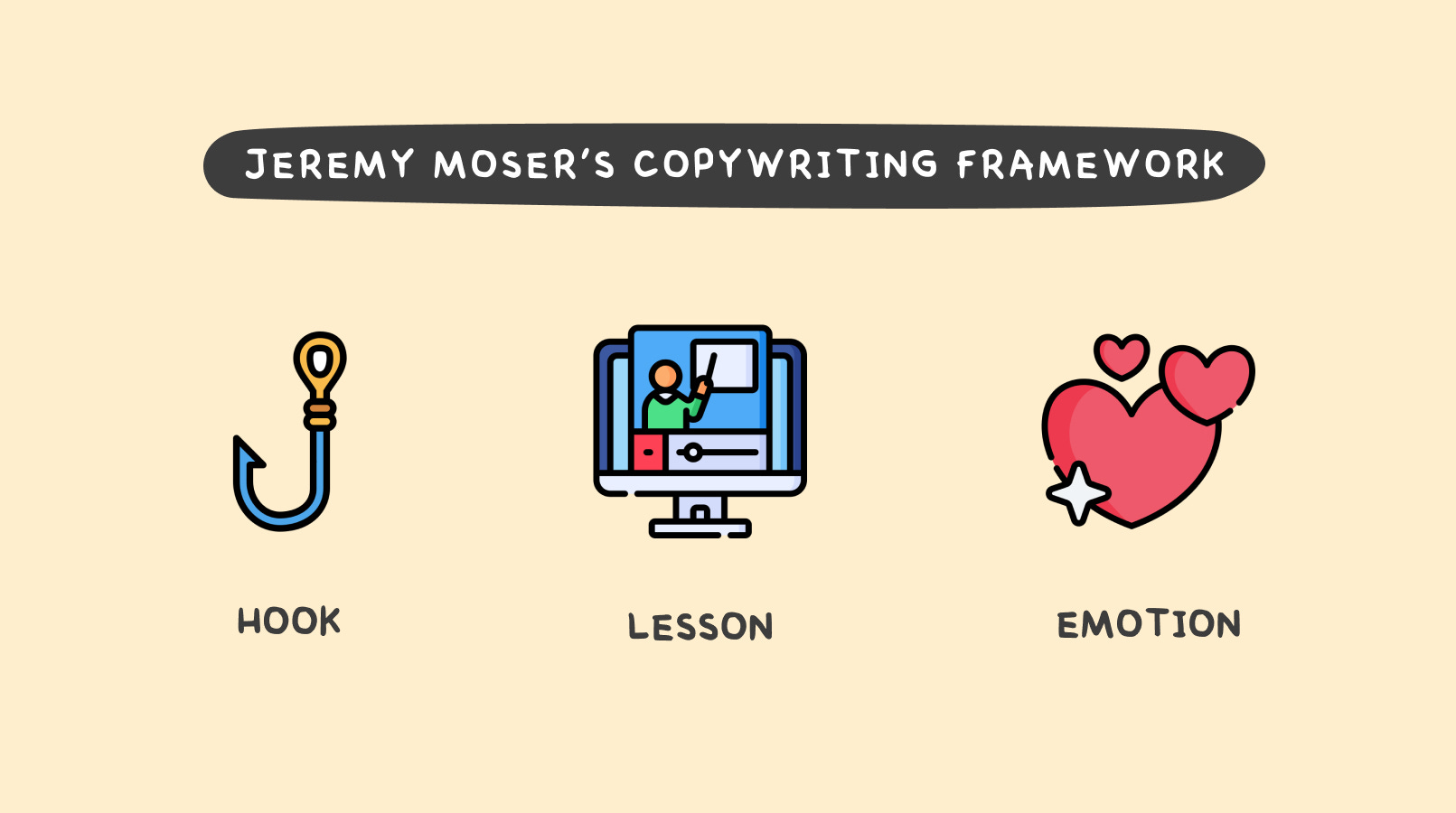 ⭐️ Jeremy Moser's 3-part copywriting framework
1. Hook 🪝
The "hook" is the part that helps you grab the attention of a specific audience. With more noise on social channels, your hook is so much more important to get people to stop scrolling.
"On Twitter, there are all these threads and DMs of sales pitches to get you on a demo call," says Moser. "It's super noise there!"
Great hooks are focused on the end goal of your audience. What are they trying to achieve? How can you help them achieve that?
If you're trying to engage people interested in learning effective content distribution strategies, Moser suggests using a hook like: "I've helped 100s of companies with their content distribution strategy. Here's how you can get started…"
Moser's tips for effective hooks:
Tailor it specifically to a given audience.
Use data and stats (if possible). Make sure it's not fake statistics!
Showcase your experience and how you can help people achieve a specific goal.
2. Lesson 🤓
You can't just have an amazing hook and not deliver on it. That's a bait and switch!
That's where the lesson portion is important. You build long-term trust when you educate people and help them achieve their goals. You build trust today by providing valuable free information.
"People get concerned with the idea of giving information away for free," says Moser. "But if you look online, most of the stuff is already free online in blog posts, YouTube videos, and books."
The key is teaching something your audience will find valuable, not just surface-level stuff. What's something you can share that your target audience can truly benefit from?
3. Emotion ❤️
Once you've taught your audience something, the key to long-term success is connecting with people emotionally beyond educating them.
How do you actually build deeper relationships with people and get them to stick around?
"That comes with some sort of emotion through storytelling. That could be a quick story about your journey of helping people with your product or a a really big customer case study."
Some of the best copywriting Moser has seen touches on emotions, relationships, and conversations.
Jeremy Moser goes into more detail about his framework in the latest episode of the Marketing Powerups show.
You'll also learn how to:
Apply Jeremy's 3-part copywriting framework to social posts.
Find mentors to help you accelerate your marketing career.
Increase the number of opportunities available to you.
Watch it on YouTube, or listen to it on Apple Podcast and Spotify now.
As an exclusive free perk for Marketing Powerups subscribers, I've created a powerups cheatsheet you can download, fill in, and apply Jeremy Moser's copywriting framework.
You can download and make a copy of it here (a direct link with no email required).
---
⭐️ Mini Powerups
Fun-sized blurbs to help boost your marketing.
✨ The YouTube video formula: Justin Simon shares the video script formula he used at Camstasia, resulting in 43K views in 134 days. It has four main parts: Grab attention, Agitate, Activity, and Action. Check out his LinkedIn post that shows it in more detail.
✨ 2023 content marketing trends and insights:  The folks at Clearscope and Siege Media summarize what almost 300 content marketers have in store for 2023. It covers everything from link building and interactive content to artificial intelligence and content design. Unsurprisingly, most content marketers say they're looking to use AI in their content creation process.
✨ A sceret wirtnig tip taht will bolw yuor mnid: Read that again. 👈 Did you notice all the typos? If not, it turns out that's pretty normal. John Harrison of Copywriting.io takes us through in a LinkedIn post why we fall victim to this silly little brain trick and how you can beat it to make your copy convert.
---
🎖 Sponsored powerup
Thank you to the sponsor of the Marketing Powerups show and newsletter—42/Agency.
Founded by my good friend, , 42/Agency is my #1 recommended demand gen agency for SaaS to help you drive demos and signups.
Read some spicy takes on , such as freemium, inbound marketing, and category creation—then schedule a free consultation.
---
That's all for now, friends!
Have a powered-up day,
Ramli John
👋 Say hello on Twitter and LinkedIn
---
---
P.S. If you found this helpful, would you share the love by tapping the heart below? And if you're feeling generous, kindly forward this to colleagues or click the share button below.
Written by