The 4 R's of the perfect buyer persona
Marketing Powerup #17: Adrienne Barnes' formula for creating useful buyer personas that win more business.
Most buyer personas are useless. They often have a quirky name like "Mark the Marketer," and some info like:
37 years old
Married for 8 years, 2 kids
A mid-level manager at a tech company
The problem with this? Mark isn't real!
"It's not based on solid data, customer-backed conversations, social listening, or user behavior." says Adrienne Barnes, founder of Best Buyer Persona.
Adrienne is on a mission to help businesses create actionable, data-backed, and needle-moving buyer personas that win more business.
She's worked with dozens of companies to create useful buyer personas that lead to better content marketing, sales enablement, and ad campaign plans.
Instead of including demographic data such as age, job title, and gender, Barnes' best buyer personas have four main parts: responsibilities, relationships, rituals, and routines.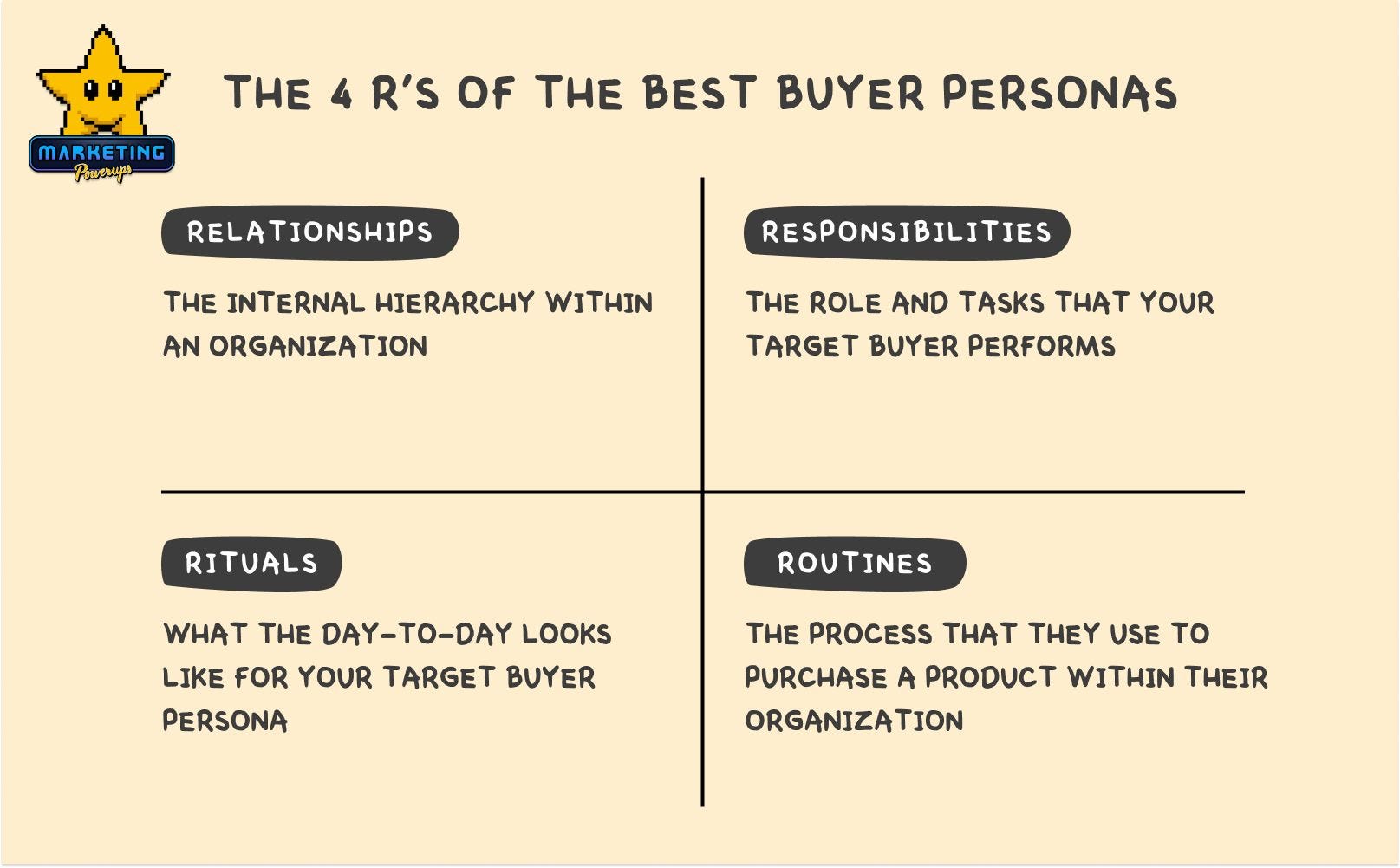 Responsibilities:

What are the roles and tasks that your target buyer performs?

Which KPIs and metrics do they track?

What are some of their goals?

Relationships:

What's the internal hierarchy within the company?

Who are the decision-makers versus the end-users?

Rituals:

What does their day-to-day look like?

What other tools do they use?

Do they work in an office or work remotely?

Routines:

What's their process for purchasing products or services like yours?

What kind of routines and cycles is the company a part of?
By including these four elements in your buyer persona, you can better empathize with your buyers and position your product as the best solution to their problems. It's rooted in understanding your product's Jobs-to-be-Done, which I cover in a previous issue of  "How great marketing upgrades people."
Barnes other tips for creating more useful buyer personas:
Leave the picture out of it. Pictures can introduce bias.
What content would help the persona? Determine what topic and type of content would help this persona the most.
Don't stop iterating. This document is never done!
Share it with your entire company. The information is too valuable and important not to put to work.
You can learn about how to create more useful buyer personas that win more business in the latest episode of the Marketing Powerups show.
Watch it on YouTube, or listen to it on Apple Podcast and Spotify now.
You can apply Adrienne Barne's perfect buyer persona formula with the powerups cheatsheet I share exclusively to Marketing Powerups subscribers as a free perk.
You can download and make a copy of it here (a direct link with no email required).
---
⭐️ Mini Powerups
Fun-sized blurbs to help boost your marketing.
✨ Why building your startup's brand from day 1 matters: It's common for startups to kick brand marketing down the road early on. But it's important to focus on it as soon as possible. The results compound, and you won't regret investing the time and energy upfront. Ramesh Ravishankar, Sr. Marketing Director at Freshworks, explains how one team used sustainable growth strategies to build a brand as an early-stage startup.
✨ The data that shows returning to the office results in a slump in productivity: This week, Amazon's CEO Andy Jassy announced a return-to-office mandate to all Amazon employees to increase productivity. But data show that productivity levels dropped when companies started mandating a return to the office in early 2022. This Fortune article provides a  thought-provoking explanation for the drop in productivity.
✨ How to use estimated brand reach as a meaningful marketing message: Estimated brand reach is the most important high-level metric that everyone seems to either interpret incorrectly or ignore altogether. Why? Because it's a tough nut to crack. This article outlines a way to estimate brand reach.
---
🎖 Sponsored powerup
Thank you to the sponsor of the Marketing Powerups show and newsletter—42/Agency.
Founded by my good friend, , 42/Agency is my #1 recommended demand gen agency for SaaS to help you drive demos and signups.
Read some spicy takes on , such as freemium, inbound marketing, and category creation—then schedule a free consultation.
---
That's all for now, friends!
Have a powered-up day,
Ramli John
👋 Say hello on Twitter and LinkedIn
---
---
P.S. If you found this helpful, would you share the love by tapping on the heart below? And if you're feeling generous, kindly forward this to colleagues or click the share button below.
Written by