Hey, my friend! Looking forward to having you on my show.
I'm thrilled and honored that you'd take some time to come on my show to nerd out about marketing.
I want to make sure your expertise shines through during the recording.
To help you prep for it, I put together a short video below (you can also read it below!)
1. The prep 👩‍🍳
One to two days before recording, I'll send you some questions we can talk about. In general, the are three main parts to a Marketing Powerups episode:
A problem or pain point that marketers face (e.g., having to create more content with fewer resources and time).
A framework, tactic, or tip that helped you overcome those problems (e.g., the ABC content repurposing framework).
A career "powerup" that's helped you accelerate your marketing career (e.g., start a podcast, post on Twitter more, say yes to more things, start a side hustle, etc.)
2. The recording day 🎙
For the first 10-15 minutes, we'll just chat about the questions and make sure our tech is working.
Then we jump into the recording, which could take anywhere between 30 to 60 minutes.
Here are three tips to help you sound great and shine through in your episode:
Find a quiet place to record. I understand that unexpected things can happen (I have a baby under 2 years old myself!) A fire truck can pass by, or someone might start mowing the lawn. That's no problem! My editor can cut those out. Ideally, find an indoor room with closed doors for our recording.
Use an external mic if you have one. The mic from your laptop just won't cut it. If you don't have an external mic, the next best thing is an Airpod, a Bluetooth headset, or a wired earphone with a mic. If you're going to be doing a lot of podcasts, I suggest the Shure MV7 mic. It's what a lot of podcasters use (including me).
Be ready to have your video on. Marketing Powerups is a video podcast available on the Marketing Powerups YouTube channel and everywhere else. If you're unable to be on camera, no worries! We can reschedule for another day.
3. The go-live 🚀
About two to five days before the episode goes live, I'll send a preview of the podcast page. Edits will be minimal, but you can make specific requests.
If you have a book, campaign, or event launch, I can most likely schedule your episode to go live when you want to.
If not, I'll schedule it according to my content calendar.
I'll also share some video snippets and images you can use to help share your episode on your social profile and (if you have one) your newsletter.
Cancellations or rescheduling 🙅‍♀️
I understand: life or work sometimes get in the way.
If you ever need to reschedule, no problem! You can just open the calendar invite and click on rescheduling link.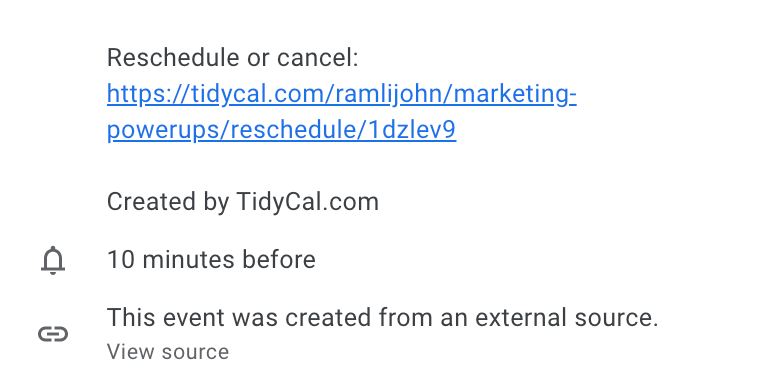 Questions? 🤔
Please don't hesitate to email me at ramli@ramlijohn.com or contact me with any questions or concerns.
I look forward to recording some marketing magic and powerups with you!
Have a powered-up day!