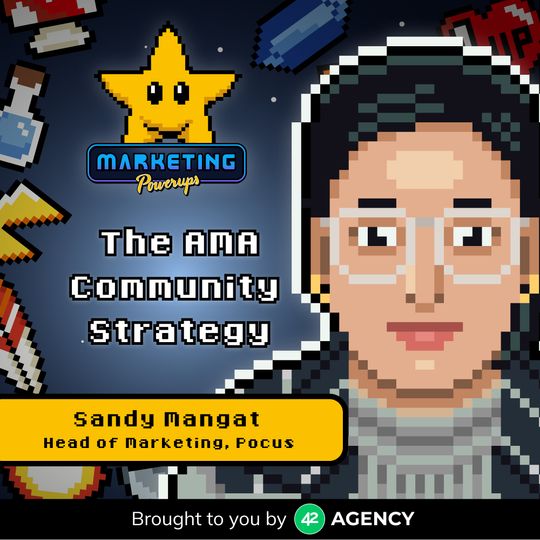 The Show
Sandy Mangat's AMA community strategy that fueled Pocus's marketing flywheel
Sandy Mangat, Head of Marketing at Pocus, discusses the AMA community strategy that fuels its marketing flywheel.
Community-Led Growth is all the hype recently. But if you look at most companies' communities, what you hear is "crickets."
But, if you look at Pocus' Product-Led Sales community, you can see members welcoming each other, responding to each other questions, and lifting everybody up.
The secret? It's their AMAs series where experts from Clearbit, OpenView, and Notion have come to answer any questions, which has been so central to their marketing flywheel and community growth.
Today, Sandy Mangat, Head of Marketing at Pocus, discusses Pocus's AMA community strategy in detail.
In this Marketing Powerups episode, you'll learn:
How Pocus' AMA series fuel its marketing flywheel.
How building a network of mentors and advisors accelerated Sandy's career.
How Sandy repurposes the AMA recordings into articles and podcast episodes.
How Sandy identifies product evangelists through their community.
Listen to the episode on Apple Podcast and Spotify now, or watch it on YouTube.
I want to thank the sponsor of this episode,
42/Agency
.
When you're in scale-up mode, and you have KPIs to hit, the pressure is on to deliver demos and signups.
And it's a lot to handle: demand gen, email sequences, revenue ops, and more! That's where 42/Agency, founded by my friend Kamil Rextin, can help you.
They're a strategic partner that's helped B2B SaaS companies like ProfitWell, Teamwork, Sprout Social and Hubdoc build a predictable revenue engine.
If you're looking for performance experts and creatives to solve your marketing problems at a fraction of the cost of in-house, look no further.
Go to
https://www.42agency.com/
to talk to a strategist to learn how you can build a high-efficiency revenue engine now.
⭐️ The AMA community strategy
Sandy Mangat, Head of Marketing at Pocus, says that "the AMA community events have been a critical part of Pocus's go-to-market motion from even before the product was launched."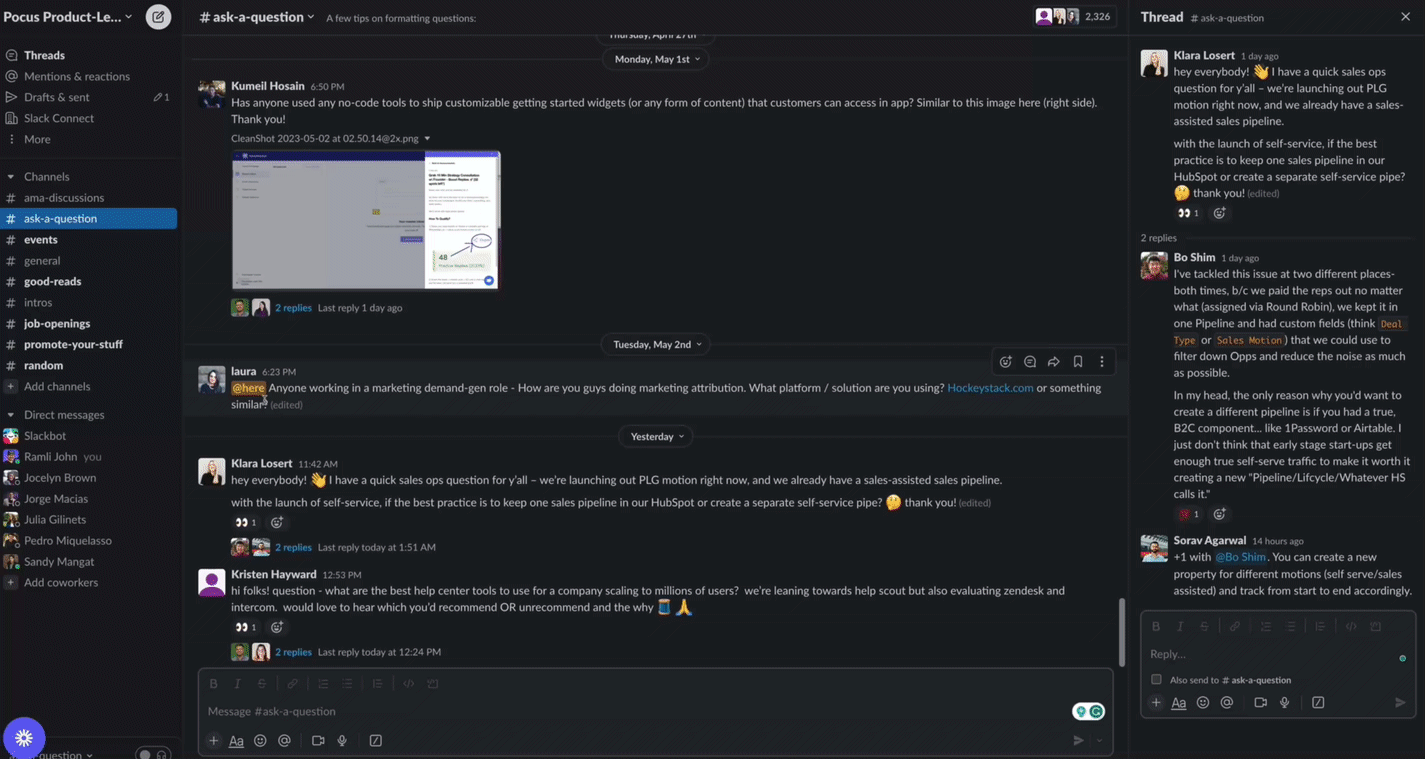 Here are the four things that make Pocus' Product-Led Sales community thriving:
1. Value-first approach. 🏆
Sandy believes that community is about value first, education, and building a relationship with your audience and customers.
Companies should treat their community like a product, thinking about the value proposition, unique selling points, and what makes them 10x better than their competitors.
By taking this approach with Pocus' community, they can create "a cult following for their brand and product," build an evangelist network, and create a different kind of relationship with their community members.
2. Be a solution to a problem. 🤨
Pocus uses AMAs (Ask Me Anything) as a central part of its community growth and marketing strategy. Sandy discussed how AMAs provide an "informal setting for interesting conversations that lead to the discovery of things that are difficult to find by reading a case study."
The Pocus's team hosted AMAs to invite thought leaders and experts to answer questions its community members had about product-led sales. In other words, it was a solution to a problem.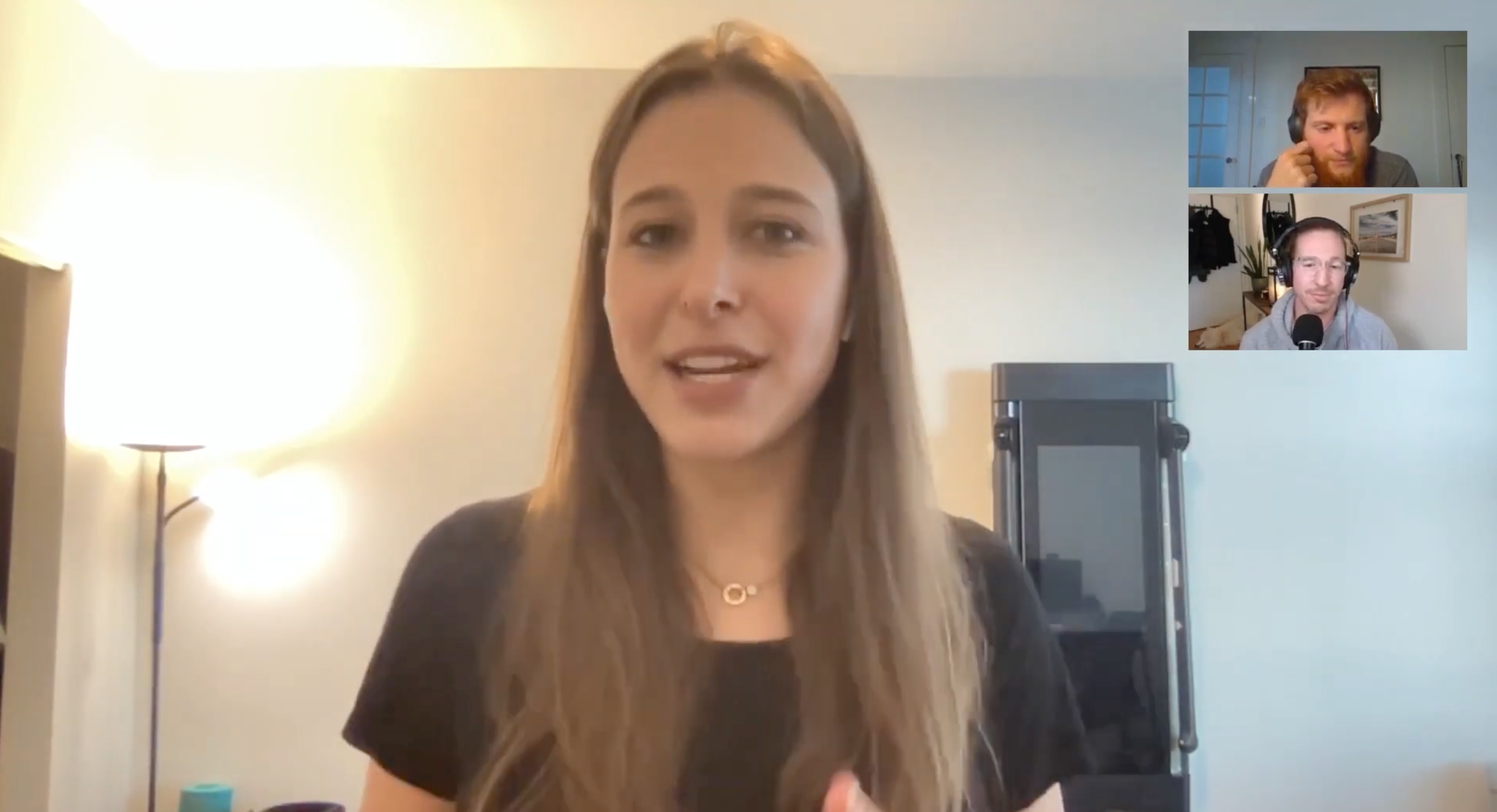 When thinking about starting a community for your company or brand, think through what problems you're solving for your audience.
Is it to answer questions from experts? Or to connect people around a common goal? It could be to another way for people to get product support.
3. Repurpose AMAs recordings. 🎥
Sandy and the Pocus team repurposed the AMA recording into other types of content, including a podcast called "Unlock Revenue," blog posts with recaps of the AMA, shareable quote images from experts, social media posts, audiograms, and more.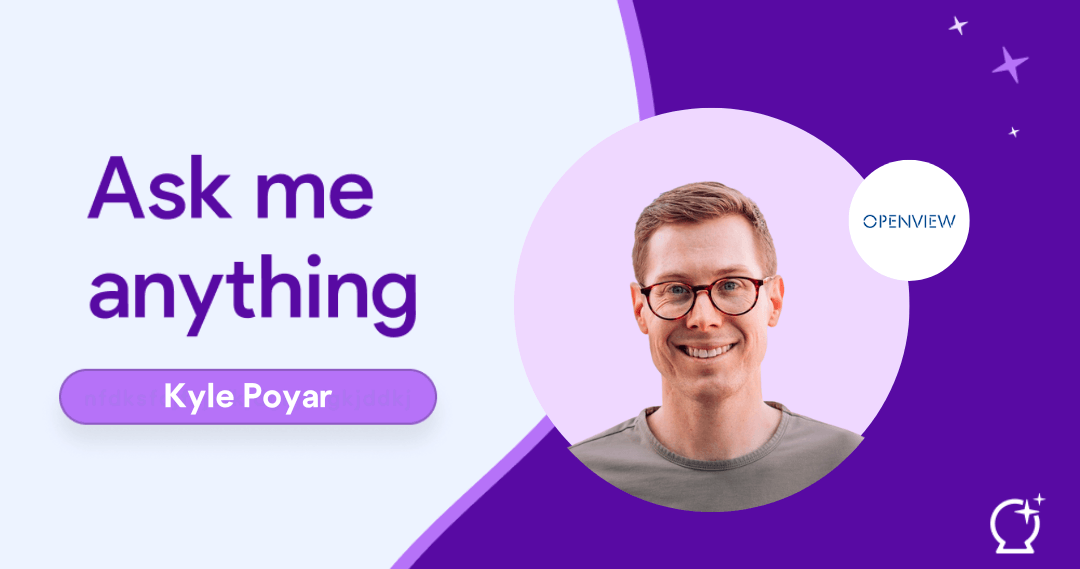 The content pieces from AMAs have become fuel for Pocus's marketing strategy, including its content strategy, community growth approach, and brand-building efforts. This approach makes it easy for Pocus to generate content quickly and efficiently.
"The AMAs have been phenomenal for us. They allow us to connect with our community and provide real value to them while also providing us with a source of content that we can turn into blog posts, social media posts, and other types of content. We can deepen our connection with our community members by providing an unvarnished version of the conversations that occur during AMAs."
4. Treat members like humans. 🫀
Sandy emphasized the importance of treating community members like humans and building a relationship with them. Companies should engage with their audience whenever possible, either through a quick DM or encouraging them to ask a question and then helping them find the folks that can answer that question by tagging them.
"Engaging with our community members is something we take very seriously. We want to build a relationship with them and make them feel like they are part of something special. We want to be there for them and help them in any way we can. That's why we encourage them to ask us questions and engage with us whenever possible."
The secret sauce to Pocus's community.
Pocus's success story shows that community is a critical part of a company's growth and marketing strategy. By focusing on value first, education, and building a relationship with your audience and customers, companies can create a cult following for their brand and product, build an evangelist network, and deepen their connection with their community members.
🏆 Free powerups cheatsheet
🎉 About Sandy Mangat
Sandy Mangat is the Head of Growth Marketing at Pocus, where she is responsible for developing and executing the company's growth strategy. With almost a decade of experience in marketing, Sandy is a seasoned expert in community-led growth and content marketing. She has helped Pocus to establish itself as a thought leader in the product-led sales space through its AMA series and other community initiatives.
🕰️ Timestamps and transcript
[00:00:00] Boosting Community Engagement with AMA Series: A Case Study of Pocus
[00:01:04] Building a Community to Solve Product-Led Sales Questions
[00:05:24] Building Engaging Product-Led Communities
[00:10:53] 42 Agency - My Number One Recommended Demand Gen Agency
[00:11:40] How Community is a Central Part of the Marketing Flywheel
[00:17:11] How a Strong Community Drives Content Strategy
[00:21:09] Unlocking Revenue Through AMAs and Community
[00:24:13] Accelerating Your Marketing Career with Key Strategies
[00:28:55] Pocus: Building a Best-in-Class Community and the Next Generation of Product-Led Sales
Episode transcript
Community-led growth has been all the hype recently, but if you look at most companies' community, what you hear is crickets. But if you look at Pocus's product at a sales community, you can see the members are welcoming each other, they're responding to each other and they're lifting everybody up. The secret is their AMA series Work Experts from Clearbit. OpenView and Notion have come on to answer any questions from community members. It's been so central in their marketing flywheel and community growth. Today Sandy Mangat, the head of marketing at Pocus, discusses in detail their AMA community strategy. It is a Marketing Pops episode, you learn first how Pocus's is AMA series fueled it's marketing flywheel. Second, how building a network of mentors and advisors accelerated Sandy's career. Third, how Sandy repurposes those AMA recording into articles and podcast episodes. And fourth, how Sandy identifies park evangelists through their community. Before we start, I've created a free Power Up cheat sheet that you can download, fill in and apply Sandy's inmate community strategy right away to your business. You can go to marketingpops. com to get it right now or find that link in the description and show notes. Are you ready? Let's go.
Marketing Power Ups. Ready? Go. Here's your host, Bradley John.
We're going to be talking about Marketing Power Ups specifically for Pocus. Community has such been a big part of their marketing flywheel. Specifically, I'm looking at your AMA, your Ask Me Anything series and it's such a great content and also community growth approach and you've had so many great growth leaders and product led sales folks there from OpenView, Clearbit and Notion, Monday, a lot.
Yeah. Community has been important to Pocus's growth and go- to market motion from even before we had a product. So our founders, Alexa and Isaac, they were having hundreds of conversations with sales leaders at PLG companies talking about this new thing, product led sales and there was a lot of nodding heads like" Yes, this is what we're doing but there's no name for it. And actually I have a lot of questions." So while they were excited about the product, they had a lot of questions about things outside of the product. How do you actually make this motion run? Product led sales is not just something you can solve with a tool, it's something that is transformative for a company. And so you need to think about how are you going to hire differently? How are you going to compensate differently? How are you going to enable your teams differently? And so all of these questions are questions I like to think of as difficult to Google or I guess now difficult to ChatGPT. And so the community was really born out of this desire to, one, connect those people so that they can learn from each other and start answering some of these ungoogleable questions.
I love that the foundation is to solve a problem. I think the whole drive through product led growth and community led growth is that a lot of companies open up communities without trying to understand exactly what the community is solving as a problem. And for this, people have a ton of questions about product led sales. They want to know... You mentioned conversation and structure and things like that. The focus Team really built this community to solve the problem is what I heard.
Yeah. And I think you hit the nail on the head there. You got to think about your community like its a product. You would not build a product without thinking about the value you're adding to the end user. Would you? It's the same thing with community and if you're going to build a community where maybe something already exists, it's the same thing with a product, lots of products and are categories that are already very, very busy. What is your unique value proposition? How are you making things 10x better? Those are the same questions you should be asking yourself when you're building a community. And I think the mistake a lot of folks make, like you said, is building community for the sake of community as a channel for lead gen essentially. Whereas I think communities that are super successful are ones that think about value first, education, connection. It's really not self- serving, it's serving your audience or your potential customers.
And just to double click on that idea, that community is a product, what I heard earlier was that Alexa and the co- founder, they really did a lot of user research. I think great product leaders and product folks, they think about, " Let's do some user research because building product is expensive." So the same thing with this is, is what are the kind of questions that people who are talking about product led sales are stuck on that you mentioned that is not as ungoogleable because maybe there's not enough content on it. So, I think that's another thing that I heard that can really contribute to community is a product.
Yeah. And actually that's why I think AMAs are super successful for us because it's an informal setting. It leads to those interesting conversations, the stuff you can't Google. And I think we all learn from each other's experiences. So having guests on that have been there and done that on specific topics related to product led sales allowed us to go deep into the nitty- gritty. Those questions that are hard to find. Just by reading a case study about the growth of Slack, you're not going to learn about maybe the less well- thought- out frameworks, you're going to hear about the mistakes that they made, you're going to hear about the projects that didn't work out. So I think there's a lot of value in having bit of that informality to the conversations that happen in a community.
I love those AMAs. I've been on one and one thing that really struck with me was that when people came on that you and Alexa were greeting folks by name and then they were saying hey to each other and they were talking about, " Oh, how was your weekend?" There's that connection piece that you mentioned earlier. What was that experience like building that AMA to feel that connection that I don't see as often in communities that I see in the Pocus community?
Yeah. I think that is probably one of the things that we spent the most time on in the beginning was, one, our community remains invite only so you can apply to join the community and we reserve the right to not let you in. And what that does is makes it so that we are getting the right folks in to have the right kinds of conversations. And because of that, Alexa and I basically vet every single person that comes into the community. So even before we talk to you on Slack or meet you at an AMA, we already know your name because we probably came across it and it gets harder and harder with scaling and the volume that we're experiencing now. But I would say we still take the time to look at the intros channel, learn about what types of folks are joining the community and engage with them whenever possible, either through quick DM or encouraging them to ask a question and then helping them find the folks that can answer that question by tagging them. I think that's super important to do at every stage of growth in a community. Today it's done by myself, Ivanna on my team and Alexa and others in our company, but eventually we'll have a community team that's going to build those connections. But building the connections between yourself and community members and then also encouraging connection between community members leads to a lot of stickiness with your community. Which I think with all things people want to have human connection, especially as we lacked it so much for a few years there when we were all locked up. But people want to connect with folks that are doing similar things to them.
And I guess as you do more of those AMAs, people start recognizing the same names and that's a great thing about having online form or channels like Slack and also having a virtual meetup slash AMA is like you're deepening that connection so to speak, rather than, " Oh, we're chatting, now we're seeing each other through this Zoom AMA setting." Is that what you've seeing in the focus community?
Yeah, exactly. It's creating all these different touchpoints and we actually started doing some in- person events as well. So taking the relationship even further. I would say a lot of our inspiration for everything that we do from a community perspective comes from the community brands that we respect and love like Notion. And so really shout out Notion with their insane community.
It's so good. Yeah.
But yeah, it's all about finding the layers of connection and you won't be able to do that with everybody in the community. Just like a product, you've got power users and then you've got more casual users. And same thing with community. We've got power community members who are... They're part of the journey with us, really. Those folks that are super engaged and we've built that relationship with, they're helping us build this category, they're helping us push this category forward. So they're more than community members, they're like extensions of the Pocus team.
Right. That totally makes sense. They've become evangelists of not just Pocus but of product sales. They'll be talking about it to other people in their industry.
Yeah, exactly.
Before we continue, I want to thank those who made this video possible 42 Agency. Now when you are on scale up mode and you have KPIs to hit, the pressure is on to deliver demos and signups and it's a lot to handle. Demand gen, email sequences, rev ops and even more. That's where a 42 Agency founded by my good friend Kamil Rextin can help you. They're a strategic partner that's helped B2B size companies like ProfitWell, Teamwork, Sprout Social and Hubdoc build a predictable revenue engine. If you're looking for performance experts and creatives to solve your marketing problems at a fraction of the cost of in- house, look no further. Go to 42Agency. com to talk to a strategist to learn how you can build a high efficiency revenue engine now. You can find that link in the description below. Let's jump back in. And one thing that is often a sticky point with community is trying to justify it as an investment. And you mentioned that how community has become... When we were chatting about what we chat about, this is something that got me excited. You mentioned community as such a central part of the marketing flywheel at progress. How does that look like? I'm curious especially for people who are like, " Oh, let's just start a community." And haven't really thought about what it means in terms of the larger marketing strategy or playbook.
Yeah. So community is such an important part of the marketing flywheel for a few different reasons. The first one is we're entering a new category. We're building a new category. And so there's a huge burden for education. And we're educating that next generation of go- to- market leader. And so what better way to do that than through a community setting where everyone can learn from each other. And we were very intentional in the early days of Pocus and I credit Alexa and Isaac for this completely because they're the ones who really set up this culture where we are not dictating from an ivory tower what it means to run this product led sales or hybrid motion. We're learning from this community of folks who have been doing this or have just started doing this, or learning new things. We want to leverage their knowledge and we want to leverage their best practices, their frameworks. We have opinions too, but it's about building this together. And so that informed those early conversations, then informed the content that we created from a marketing perspective. So my content calendar for the first six months at Pocus was just answering community questions and then taking their feedback on those questions and figuring out what experts we should bring in like, " Hey, I know the best person to talk to about this topic at so- and- so company, you should interview him, you should bring him on for an AMA or you should interview her and create a piece of content." So the content strategy came organically through the community. The other piece which you mentioned is evangelists. So when you're building a category, you can't be the only people beating on the drum of that category. You need other folks to beat that drum for you. And so community by virtue of it being this place where you come and connect about things that you care about naturally leads to building a bit of an evangelist network and creating that evangelist influencer flywheel. And I think there's two other things that community contributes to. Brand loyalty, which we talked about. When you have a personal connection to folks building a company like Alexa and I, Isaac Ivanna, whoever else you engage with in the community, I think it leads to you having a different kind of relationship with that brand and with that product. And brand as we know, raises all boats. So if you can create a cult following for your brand, you're doing something right. And then the last thing and it's last for a reason, is the prospect of it being a lead gen channel. So oftentimes for us, the first touchpoint a person that becomes a customer down the line has is with the community. But it's not something we are actively pushing. We're not mining our community as a pool of prospects. We're really letting that journey happen organically from first touchpoint in the community, learn about product led sales, and then maybe six months down the line you realize, " I'm ready for a tool to solve this problem." And then you already know Pocus at that point. But it's not something that is at the top of that list for a reason because it creates a bad experience for community members.
Yeah. I've been in those communities where you get a DM and it's obvious that it's community's main purpose is to be a lead gen channel for something like courses or product or something like that. And it's true, it's about, you mentioned it earlier, about being value first with the community itself. I really love how you call a lot of that stuff out. I think the other piece that is interesting is how you and your team has been repurposing those AMAs. I feel like that's such a great play on content repurposing where you're taking this really amazing interview that the community members... We want to hear and learn from somebody from Notion about community, like Ben Lang or something that you had on or Kyle Poyar from OpenView and turning that into this really... Your team does such a good job of turning that into blog posts that is consumable. It's not just bullet points. There's even some images that is custom- made for that, which I really appreciate that people don't think about. How is also the community driving the almost content strategy as well for Pocus?
The best way to get people to care about the stuff you write about is for them to really be the ones driving the agenda. So-
That's true.
Yeah. We let the community drive a lot of our content strategy and luckily it is in line with the things that we want to talk about too, that we care about. The reason behind wanting to repurpose the AMAs in the early days was a pretty... It'll be one that a lot of startup marketers are familiar with. You just need a source of content that's easy.
That's true.
And what's easier than having an AMA, people ask the questions and then you turn that into a piece of content. So it's a very low lift way to get content out there about topics that your community or audience cares about. So in the early days it was about speed to execution and being scrappy. I was the only marketer and so I had to do what was going to be efficient for me. So in those early days it was like, " I can't think of a thought leadership blog post for every week, but I'm going to have thought leaders on for these AMAs." And that's how we get at that.
That's so good though. It's a resource constraint, but it's just so, so, so smart. Because you're interviewing people who are leaders in this space, they have some opinions, this questions from the community and then that's essentially your outline.
Yeah. There you go.
You've created this amazing outline already based on some of the questions that people want to know. I mean, the best part was answers question that people want to know and you've just crowdsourced essentially this piece of content that's really amazing, essentially.
Yeah. Emily Kramer who if you are a marketer-
I love that.
And you're not following Emily, what are you doing?
Subscribe. Market one.
Right now. Emily Kramer has a great piece in her Substack on this, which is about treating content like a product too and having a content roadmap. But one of the things that she talks about a lot is getting more mileage out of your content. And often as marketers, we get excited about topics that we want to write about and we forget about the distribution strategy and how we're going to actually leverage that content to hit our goals sometime. And then you get into this problem similar to community of content for content's sake and you're pumping stuff out that may not have impact. And so when you're thinking about content, always think about what else you can get out of that content. I think is a best practice that is now ingrained in me and we don't build content without thinking about that. And so with AMAs it was like, " Okay, we're recording this thing with the thought that maybe one day we will actually make this available as something because we've got the recording, we'll either clip it and we'll make social posts out of it or we'll do something." But thinking about that early then allows you to set up for that. So if you're having a case study conversation and you're going to write a case study, maybe ask permission to record it and one, it will serve your purpose for writing the case study, but two, you could maybe then repurpose that content later for testimonial clips or something else.
I just want to double down on that. Make sure people check out Emily Kramer on Substack with Market One, I'll link that in the show notes. But another really interesting thing that occurred, I just noticed just recently is these AMAs are now available as a podcast on Apple podcast, Spotify. It's called a Locking Revenue podcast, which I'll... Once again, I'm linking a bunch of stuff. It's shown as in description, but it's so good and value packed, all that stuff. What was the process or thinking around maybe we have enough... Is that we have enough backlogs so that we can release an episode once a week for the next few months? Is that the reason why it's like it's now time after a year and a half of doing AMAs now that you really inaudible this show?
Yeah. So there's two things at play here. One is always be repurposing.
Always. inaudible.
Make your life easier.
So good.
Always repurpose. And two, I like to think... So there's the debate of gated versus ungated in marketing. And it depends a lot on your go- to- market motion. If you are sales led, obviously you need to gate so things. If you're more PLG, you can get away with being more ungated because discoverability is so important. We're in the middle and so the way that we think about gating is it's like a time box gating. So the reason why we waited a year is AMAs were exclusive to community members, so you had to sign up for the community to get access to AMAs. And so if you want access to AMAs live, you must become a community member. If you're not a community member, you get them at a bit of a delay. We drop the AMAs as a podcast in seasons. And so now you're getting a bit of a delay in getting that insight, but you're still getting access to it just after a bit of a time box where we've made it exclusive and important for a certain group of folks who've opted in.
That makes sense. And the call to action in the episode is, " Join the community and you'll get early access to this conversation." That's so, so smart. I didn't even think that.
And the unvarnished version, right? You see it-
Unvarnished, that raw-
You see live-
There's rawness. I love that.
Yeah. The live uncut versus the-
Uncut? Wow.
We make it all nice and Spotified up.
Yeah. Under the city uncut. That's so good. Raw. You get access to it. It seems like this whole AMA is so central in terms of community and growth and content here. Thank you for mentioning.
Yeah. And it's something so easy for anyone to do if it makes sense for your ICP. Well, lucky for us, we're selling to go- to- market people. Go- to- market folks love to chat, they love to connect. So-
That's true.
It makes sense.
It totally makes sense. Yeah, that makes sense. I love that. I want to actually shift gears. Thank you for sharing all that with the AMA, how it's been so central as a strategy for your content and community. I want to shift gears and talk about Career Power Ups. Specifically, you've been in marketing now for, I think I looked at your LinkedIn, about almost a decade here, and I'm curious what's helped you with your career, accelerate your career, move it forward and just become the best marketer you can be?
Yeah. Oh my gosh, so many things. And it's crazy that it's been almost a decade. I still feel like that baby marketer some days doing her first software startup job. This is unrelated to marketing, but choosing the right company to go work for, choosing the right kind of startup and startup team, I think culture is really important to think about and you should be choosing the opportunities that give you potentially a lot of latitude to learn a lot of things very quickly. So personally for me, my first official startup job, I definitely had some other ones where I worked for. I worked for a startup that was bootstrapped with four people that did not work out. It was like DoorDash before DoorDash and we probably just gave up on the idea too soon, but that's neither here nor there. I worked for a startup called Bit Stew and I joined as the lowest on the totem pole marketer, it was like a marketing coordinator. But joining a startup of that size at series B, there was a lot going on. There weren't enough bodies, so I just got thrown into things. I raised my hand for a lot of stuff that I had no clue what I was doing. And I'll give credit to the leaders at that company, especially my mentor Franco, who really saw that I had technical curiosity and so he threw me into product marketing and I had no idea what product marketing was at the time. And that really being curious, asking questions, raising her hand, all of that I think is incredibly important to do when you're early on in your career. And I think it teaches you a really important skill, which is to be resourceful and understand how to ask the right kinds of questions. I think what sets apart some folks is you shouldn't be afraid to ask any kind of question, but you should also start to get good at asking the right kinds of questions because the right kinds of questions will get you a level deeper than maybe asking certain surface level questions. Let's see, what else? I would say for me personally, being close to product has been incredible in my career, and I think it's more important now than ever with more companies becoming product led. You really can't be an effective marketer without understanding your product and also understanding the broader go to market and how your product fits into it. So understanding product market fit and understanding how your product goes to market, the channels that make sense for that product, all of those things are I think really critical for marketers to understand. So getting closer to the product will make you, I think, a better marketer. And certainly for me, I spent a lot of my career in product marketing and I think makes me better as a marketer holistically because I understand how to translate product features into things that customers care about. I know I'm saying a lot of stuff, but I have a couple more.
Oh, keep going. This is good. This is good-
As I thinking-
Keep it going. inaudible.
Not everyone's going to have the luxury of working in a startup. I say luxury semi jokingly. But everyone has an opportunity I think to try and build things zero to one. If you don't have that opportunity in the company you're working for because you work for big corporate and you don't have a lot of latitude, I would say build something on the side. Learn how to build things zero to one. It makes you so much better at everything else because you learn to be resourceful and scrappy and you need to actually go through and do things yourself before I think you can be very good at outsourcing them to other people or hiring people to do those things for you.
That's so good. So much to unpack there. Just I feel like we can go on a new episode just based on those three things you mentioned, making sure the right kind of questions to ask, making sure, you feel free to create as well as be close to product. Those are some really great pieces of advice. I mean, other related question or note to that, if you can give a piece of advice to your younger self, and it could be the same ones you just mentioned because you mentioned such good ones. Let's say you can send a message, whether that's an email or maybe even a physical letter through time to your younger version of Sandy, what would be that advice? And once again, it could be around career, it could be around marketing, it could be around anything related to what's... That would make that person a better version of themselves.
So I already mentioned a bunch, but now I'm thinking there's one that I would like to stress from the last one. And then there's another one that I think is a little more maybe tactical. But I mentioned my mentor. So I think if I could go back and talk to my younger self, I would say build that network of advisors, mentors, and it doesn't have to be someone older than you, ahead of you. It could also be a board of advisors of your peers. Just I think that is so important, especially if you are in startups where you are the first marketer, you need other folks to lean on and help you. And now we're in a space where community is a huge thing, so you can join all these incredible communities and meet people there. But I think it's about really building those connections, finding folks that you can lean on and those folks can become people that you not only lean on for advice on marketing, but what is the next startup you should go work for? What's next in your career? So I think I would like to really stress that. My success I think has a lot to do with the mentors and advisors that I've been able to surround myself with, and I just wish I had done that earlier because it is such a level up. You learn things so much faster that way. The second more tactical thing is no matter your role become extremely competent at writing things. If you can't explain your ideas in a written format super succinctly and clearly then you know that you don't necessarily understand it. And I think it's the fastest way to... Especially if you're working for a super technical product company, you really need to hone that skill and then it'll help you in other regards too, sending a super concise email, sending very clear Slack messages so that you can get work done faster with your team. But I think writing is extremely important, and I know now that we have ChatGPT, everyone's like, " Great. A writing shortcut."
That's funny.
I still think it's important for people to hone that skill themselves. Yeah, don't outsource it all to ChatGPT.
Yeah. No, that's true. I mean, I would say that probably writing is... If cash is the blood of the business, then writing and copywriting and words is the heart of marketing. Because what's all we have. Emails, landing pages, websites, community chat and mini AMAs and learning... Yeah, for sure. So-
It's not super groundbreaking advice, but it's worth repeating because I've come across some real tragic writing.
Right. I worry that with AI, people would make it their crutch, how people worry that calculators would... I mean, it's happened. I can't calculate stuff in my head anymore, right?
Yeah.
But way back then, my dad would be like, " Oh, when I was in school, we would just memorize it and we would just spit it out and we could do a multiplication table in five seconds." Versus now with calculators.
Yeah, I know.
So it's probably the same where I hope AI doesn't become that much-
I'm worried that that skill is going to atrophy for a lot of us. I mean, if I don't write for a few weeks, I notice in my own writing that, oh God, this five paragraphs sent, this could have been one sentence. And actually one thing that I've been thinking about a lot, someone in our team mentioned it in Slack, and then actually my husband mentioned it to me recently too, but I don't remember who the quote is, but it's like, I didn't have time to write you a short letter, so I wrote you a long one instead. And short, concise writing is actually really hard and you have-
It's really hard, right?
Practice it a lot.
Super hard.
And I don't think I've nailed it yet either, but got to keep trying.
I love this chat with Sandy. I hope you learn as much as I did. We talked about branding and community and how Pocus is doing product led sales differently from other folks. You can find out more about Pocus's community at pocus. com or find Sandy on LinkedIn. All of those links are in the description and show notes. Thanks to Sandy for being on the show. If you enjoyed this episode, you'd love the Marketing Power Ups newsletter. Share the actionable takeaways and break down the frameworks of world- class marketers. You can go to marketingpowerups.com to subscribe, and you'll instantly unlock the three best frameworks that top marketers use to hit their KPIs consistently and wow their colleagues. I want to say thank you to you for listening and please like and follow Marketing Power Ups on YouTube, Apple podcast and Spotify. If you feel extra generous, kindly leave a review on Apple Podcast and Spotify and leave a comment on YouTube, goes a long way in others finding out about Marketing Power Ups. Thanks to Mary Soden so for creating the artwork and design. And thank you to Firecell Cargo for editing the intro video. And of course, thank you for listening. That's all for now. Have a powered up day.
Marketing Power Ups. Until the next episode.
✨ Useful links
Hosted by