MP#031: How to build a customer-led growth squad
Marketing Powerup #31: Gia Laudi and Claire Suellentrop share how to build a team that listens, learns, and loves your customers.
Today's Marketing Powerups include:
What SEO in the age of AI looks like.
How Ali Abdaal got 4 million YouTube subs.
Why being kind to ChatGPT get better responses.
Forget the Funnel book giveaway.
Ready? Let's go!
---
🎖 Sponsored powerup
Thank you to our sponsor who keeps the Marketing Powerups newsletter and show free for all of you!
Today's Marketing Powerups is brought to you by 42/Agency. Founded by my good friend, Kamil Rextin, 42/Agency is my #1 recommended demand gen agency for SaaS to help you drive demos and signups.
They've worked with fast-growing B2B SaaS companies like ProfitWell, Teamwork, Sprout Social, and Hubdoc.
Read some of their insightful reads in their newsletter 42 Slash like "PLG is a journey, not a place."
Then, schedule a free consultation.
---
🎓 Course powerups
Before I dig into today's Marketing Powerups, I wanted you to be one of the first people to know.
I've opened registrations for my first-ever live cohort-based course Onboarding Email Masterclass! It kicks off on Thursday, June 15.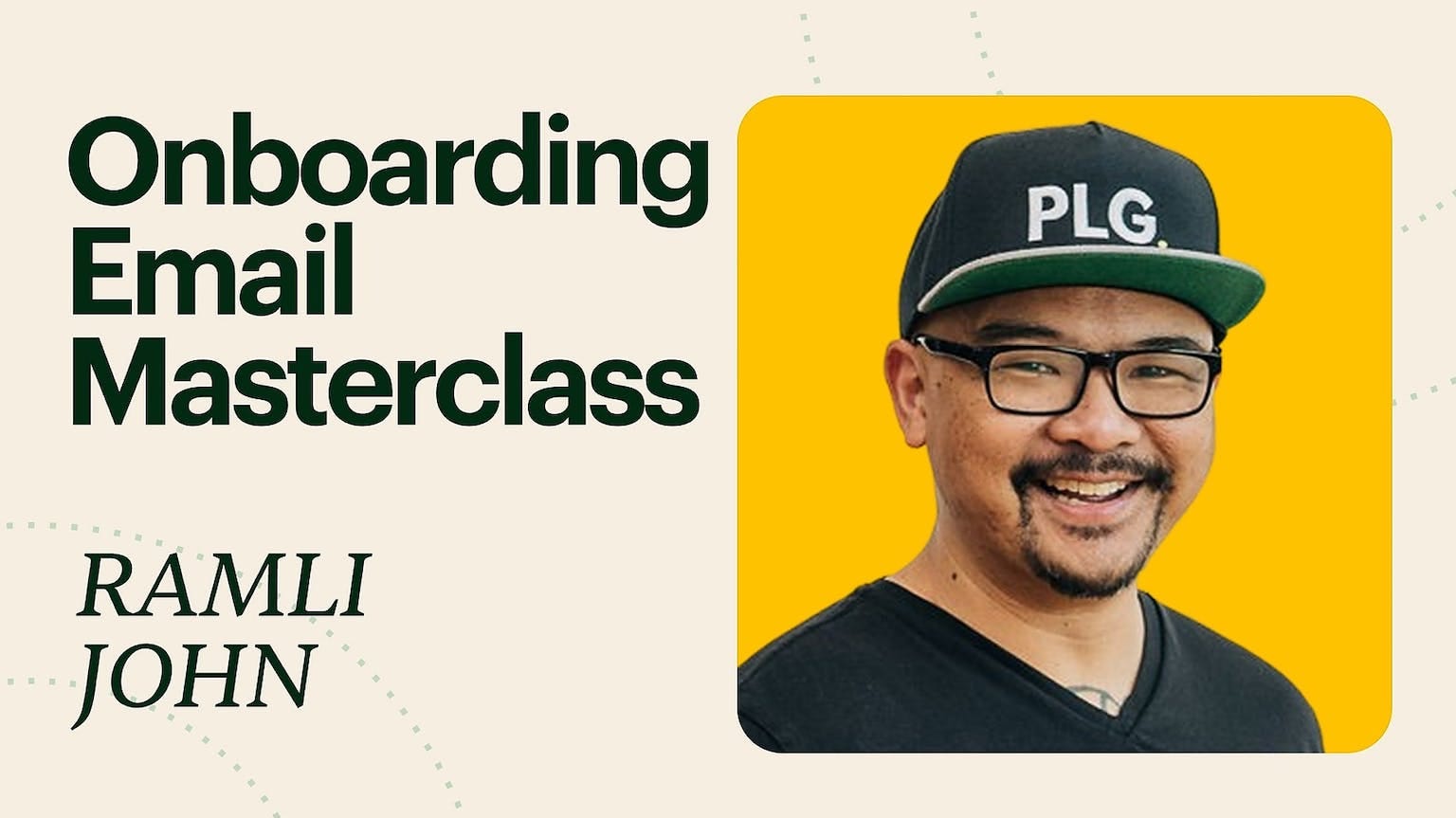 The reality is that most people ignore onboarding emails.
Can we blame them?
Many onboarding emails are the stale breadcrumbs of the user experience, hastily sprinkled without considering the bigger picture.
Marketers and founders borrow what works for other SaaS companies, then blast them in a quick burst.
That's a one-way ticket to Snoozeville!
But, fear not! This masterclass is here to the rescue.
I'll be your trusty guide, helping you whip up an onboarding email sequence that has users:
✅ Clicking with glee,
✅ Adopting your product like it's the latest fad,
✅ And turning from mere users into paying customers.
Joining this cohort includes special bonuses, including:
Unfiltered access to me throughout the course (your personal growth consultant, at your service!)
Three months of unlimited Slack support from me (a cool $750 value, totally free).
A 60-minute strategy call to supercharge your onboarding game plan (a $1000 value just for you).
While the course tuition stands at $1,000, I've got an early bird treat for you.
Snag a cool 20% off using the discount code EARLYBIRD20 at checkout. But move quickly; this offer flies away next Friday, May 26!
Ready to take your onboarding emails to new heights?
Join the Onboarding Email Masterclass.
(If course costs are a concern, many employers will cover such professional development expenses. Check out these templates and resources I've put together to help get your tuition reimbursed.)
---
✨ Mini powerups
Five fun-sized blurbs and links to help boost your marketing.
✨ SEO in the age of AI means Product-Led SEO:
For most companies, revenue from search engine channels WILL decrease as the new search engine changes roll out. Denying that fact will not prevent that reality. That's what  says. The solution? Double down on product-led SEO. (Hint: if you didn't know, he wrote the book on it!).
✨ How Ali Abdaal gained 4 million subscribers in my spare time
One of the biggest influences in my Marketing Powerups YouTube videos is Ali Abdaal. He's a former doctor turned full-time creator and entrepreneur. Ali's rapidly become one of my fav YouTubers thanks to his productivity content, and I love watching creators share their growth stories. Social pros could learn a lot from creators.
✨ Get better AI responses when you use kind words with ChatGPT
Rob Lennon found that if you ask an AI using kind language — please, and thank you — they tend to give better answers. Sounds made up until you realize that kind people tend to be more helpful, and more thoughtful about how they help. Anyway, check out the comments on this tweet and try it for yourself!
✨ How can you use ChatGPT for content marketing?
I don't know about you, but I've started using ChaptGPT to punch up my content and write rough drafts of blogs and podcast notes. The Entrepreneur.com staff compiled a list of ways you can use ChatGPT for content marketing that I didn't even consider. My favorite: asking ChatGPT to come u with split tests for your email newsletters!
✨ Is AI for SEO and content overrated or a game-changer?
I'm hosting the first-ever live event, Super Smash Marketers! I've invited Kevin Indig and Eli Schwartz (hosts of the  show) to duke it out and share their thoughts on how SEO and content will change with AI. We'll also discuss how  marketers can future-proof their careers with AI.
Join us on Wednesday, May 31, at 1 pm ET.
---
📰 Newsletter powerup
Another marketing newsletter that will powerup your marketing.
Delivering Value is a show and newsletter by my good friend Andrew Capland. As the former Director of Growth at Wistia and Postscript, he's the real deal!
My favorite one has to be his post with Benyamin Elias, VP of Marketing at Podia, where he shares mental models to become an exceptional marketing leader.
If you do subscribe, tell Andrew I sent you, will ya? 😄
---
⭐️ How to build and unify a customer-led team
Editor's note: Today's marketing powerups is written by Georgiana (Gia) Laudi and Claire Suellentrop. They've run marketing at legendary startups like Unbounce and Calendly, and now they run Forget the Funnel, which advises startups on how to grow through a customer-led approach. I've learned a ton from them. 

Last week, they published their brand new book, Forget the Funnel: A Customer-Led Approach to Driving Predictable Recurring Revenue.

They were generous enough to provide me a three copies to give away to you that includes their workbook.

To enter the giveaway, simply click the "like" ❤️ button on this newsletter, and I'll pick three winners and we'll send you a book. 🎁

I'll let Gia and Claire take it from here!
Ramli and Appcues do a stellar job of talking to customers at scale without burning them out. It's a difficult task as a one-person show or a cross-functional team — but it's critical for sustainable and predictable growth.
As an individual, it's hard to know where to start with customer research and what to prioritize. You'll likely have to wear lots of hats.
As part of a team, the linchpin becomes alignment across departments, clearly defined roles and (arguably the most important) buy-in across those teams around the importance of customer research.
So, how do you get buy-in from your boss or other departments on customer research as a worthy investment?
We'll first look at the pieces of a successful customer-led team and the most common barriers to buy-in (and how to reframe them).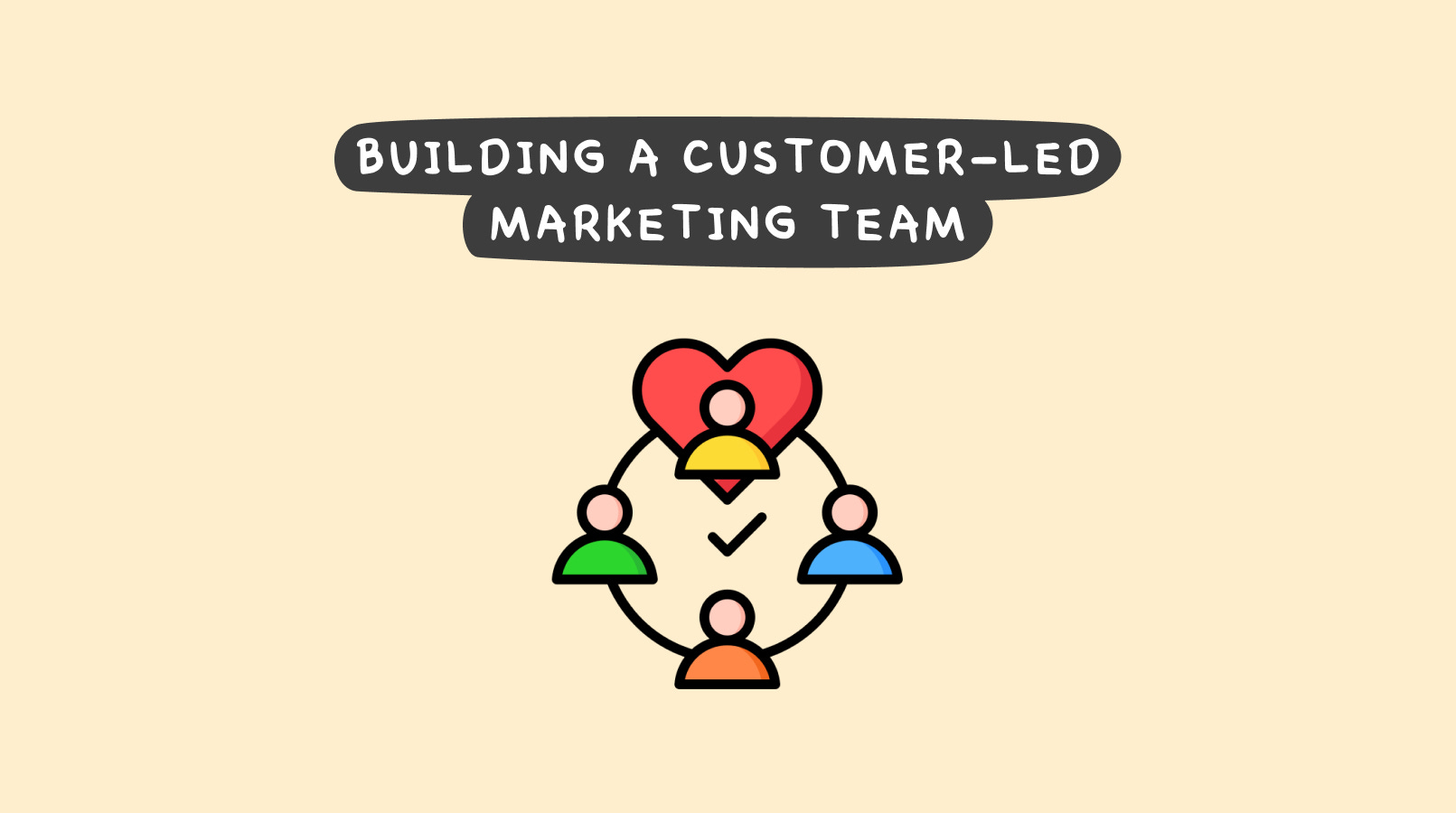 Who should be on a customer-led team? 👏
Primary Stakeholder: Generally, this is the person with the highest decision-making power on the team (e.g., founder, CEO, COO). They're interested in the big-picture strategy. They get the team on board and excited.
Champion: Usually someone leading a customer-facing department (Marketing, Product, Product Marketing, or Customer Success). They have a big-picture view of the customer experience. They can put themselves in others' shoes (high empathy). They're the most likely to move the actions forward.
Contributors/Secondary Stakeholders: These are leaders who have a stake in the outcomes of the work (e.g., Head of Product, Head of Sales, Head of Marketing, Head of Customer Service or Customer Success). They're valued and respected company-wide. They have deep expertise in the company/product/customer aspects. They also have the influence to guide their own departments in this new customer-led direction. They contribute because of bandwidth, niche knowledge, personality, or desire.
Facilitator (optional): You may opt for an internal or external advisor or consultant to guide the process forward (we're often in this role). While they won't do the day-to-day work, they will steer the ship, which speeds things up and relieves the Champion of having to play project manager and have all the answers.
Here's each role with more detail on time investment and actions:
Getting buy-in from people who don't want to buy in. 🤔
When you are working to reframe internal barriers around customer research – either from key stakeholders or your peers - here's a starting point for the three most common objections we come across:
1. "What if all this does is slow us down?"
You likely came across the Customer-Led Growth framework because your company is looking for a way to make tangible improvements. If that's the case, you can't afford to take the time to talk to your customers. In the long term, building your products and services without understanding your customers is like walking down a path without a destination. And you don't have time to wander. Taking time up-front to figure out where you're going will save you from needing to pivot in the long term.
2. "What if we end up even more confused than we are now?"
This is a totally valid concern, but it's easy to mitigate with a clear, tested, step-by-step framework like the Customer-Led Growth framework.
It's also possible that after dissecting the buying experiences of your best customers, brand-new questions and hypotheses arise. While it can feel like a regression in the short term, this is great news! More questions mean you're getting closer to the heart of what your customers need – which means you're closer to developing products your clients love.
3. "We've already done customer research."
First of all — fantastic. But the world has changed. Our customers and the environments around them have evolved. Your company probably has too! Operating based on old data can be just as misguided as operating based on none at all. Continuous discovery is essential to meeting customer needs, solving their pain points, and ensuring predictable growth.
Regardless of the barriers to buy in that may arise, don't forget to tie the goal of customer research to an established critical business opportunity and larger goals of the organization. Tying customer research to a critical business opportunity can turn customer research from a "someday" initiative into a "today" initiative.
Need help framing a critical business opportunity? You can download our free template here.
This template and many others can be found in the workbook that supplements our book.
—
We hope you found this useful!
If you are looking for a complete customer-led system that's helped companies like Wistia, Sprout Social, Unbounce, Linktree, Invoice Simple, and more build predictable revenue in unpredictable times, check out our new book, Forget the Funnel: A Customer-Led Approach to Driving Predictable Revenue.
---
🎙 New on the show
Muddy and wordy messaging can make good products look BAD. Emma Stratton (Founder of Punchy) shares a simple concept to clarify your messaging.
In the latest episode of Marketing Powerups, you'll learn:
Why muddy or wordy messaging can make good products look bad
How the SMIT concept can make your messaging crystal clear
An example of the SMIT concept in action.
A career powerup that's helped Emma transition from a freelance writer to a positioning and messaging expert.
Listen to the episode on Apple Podcast and Spotify now, or watch it on YouTube.
---
If you enjoyed this, could you help me share the word about Marketing Powerups? Share or forward Marketing Powerups to a friend or colleague:
That's all for now, friends!
Have a powered-up day,
Ramli John
Say hello on LinkedIn and Twitter
---
---
P.S. If you found this helpful, would you share the love by tapping the heart below? ❤️

Written by