How marketing teams can avoid working in silo
Marketing Power-Up #6: Growth is a team sport. It takes a team to win.
One of my biggest mistakes early in my marketing career was doing it in silo from other teams.
It could be my introverted self coming out.
I did my own thing, occasionally syncing up with sales and the founders. But, I let the customer success, product, and UX team do their own thing.
Huge mistake!
Because growth is like sports. It takes a team to win.
Even Michael Jordan had Pippen, Rodman, Kerr, and Grant.
For fans of the show Friends, even Rachel Green had Phoebe, Monica, Chandler, Joey, and Ross.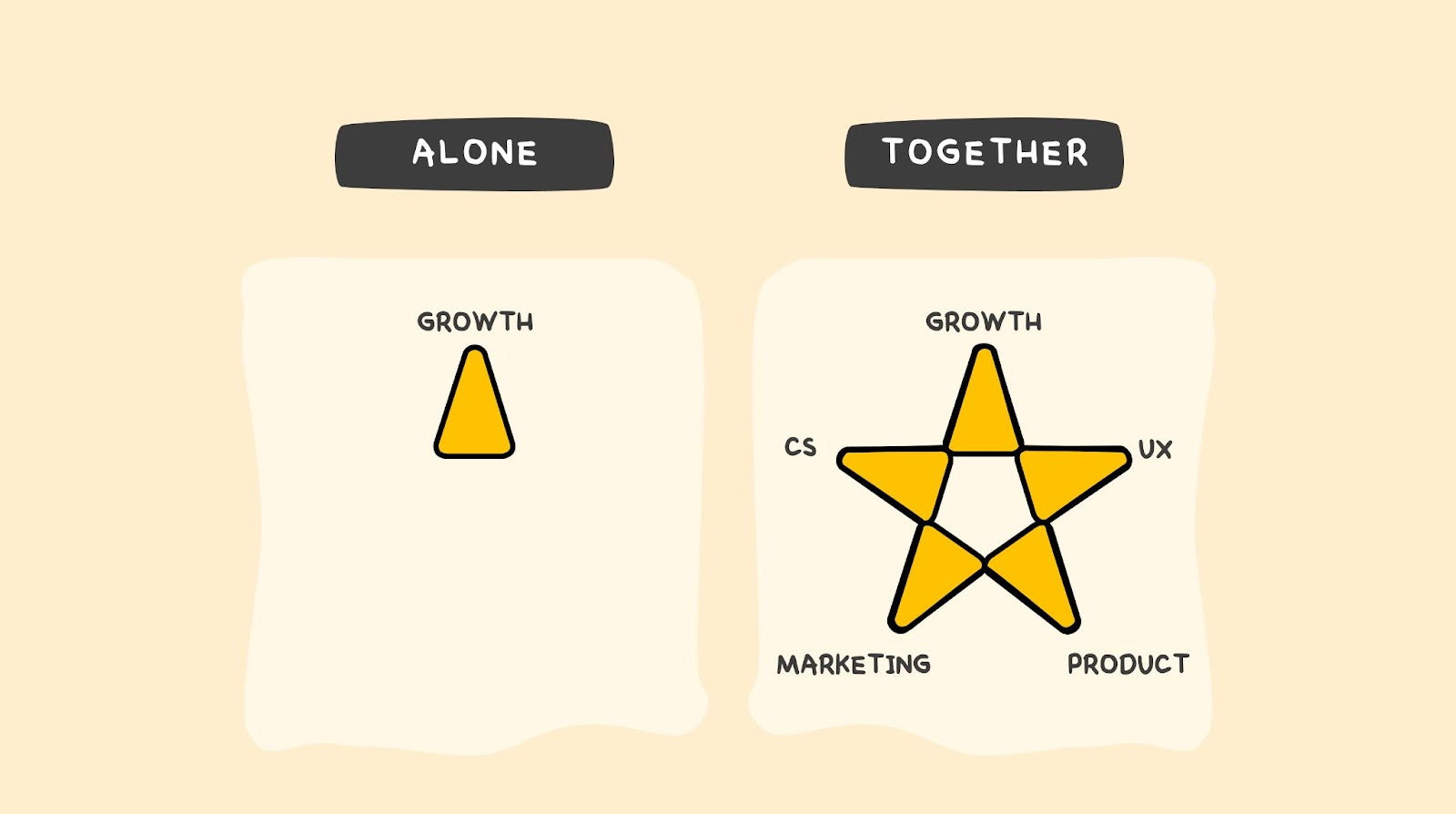 🤗 Why take a cross-functional approach to marketing?
As an introverted marketer, I've had to convince myself that I need to work with other teams to win. Especially in scale-ups and large companies, it could take more time (in meetings), effort, and intentionality to take a cross-functional approach to marketing.
So, is it worth it?
Here are four benefits for marketers to sync up regularly with other functions:
1. Fresh ideas
Bringing more people into the process results in more marketing ideas.
For example, the customer success and support team likely has more contact with customers than anybody else in the company. They're some of the best sources of insights and information for common objections, unpleasant frustrations, and frequently asked questions.
That's a goldmine for marketing campaigns, event themes, and content ideas!
2. Advocates for marketing
Involving other team members in the marketing process has one extra benefit:
They're more likely to help share and promote the content, campaign, or event to their followers, friends, and customers.
People trust people, not brands, especially in the B2B spaces.
3. Establish employees as thought leaders in your space
Involving other team members in marketing could also help establish people in your company as leaders in your space.
Here are a few ways to do that:
Include quotes from internal employees and external experts in your content.
Ask them to host a panel or workshop if they're up to it.
Set them up as guests on podcast shows.
4. Seeing the bigger picture of marketing's impact.
This is the most important aspect of syncing with other teams. You get to see the impact of your work. As I've written in the previous issue of Marketing Power-Ups, great marketing "upgrades" people by giving them new abilities and superpowers.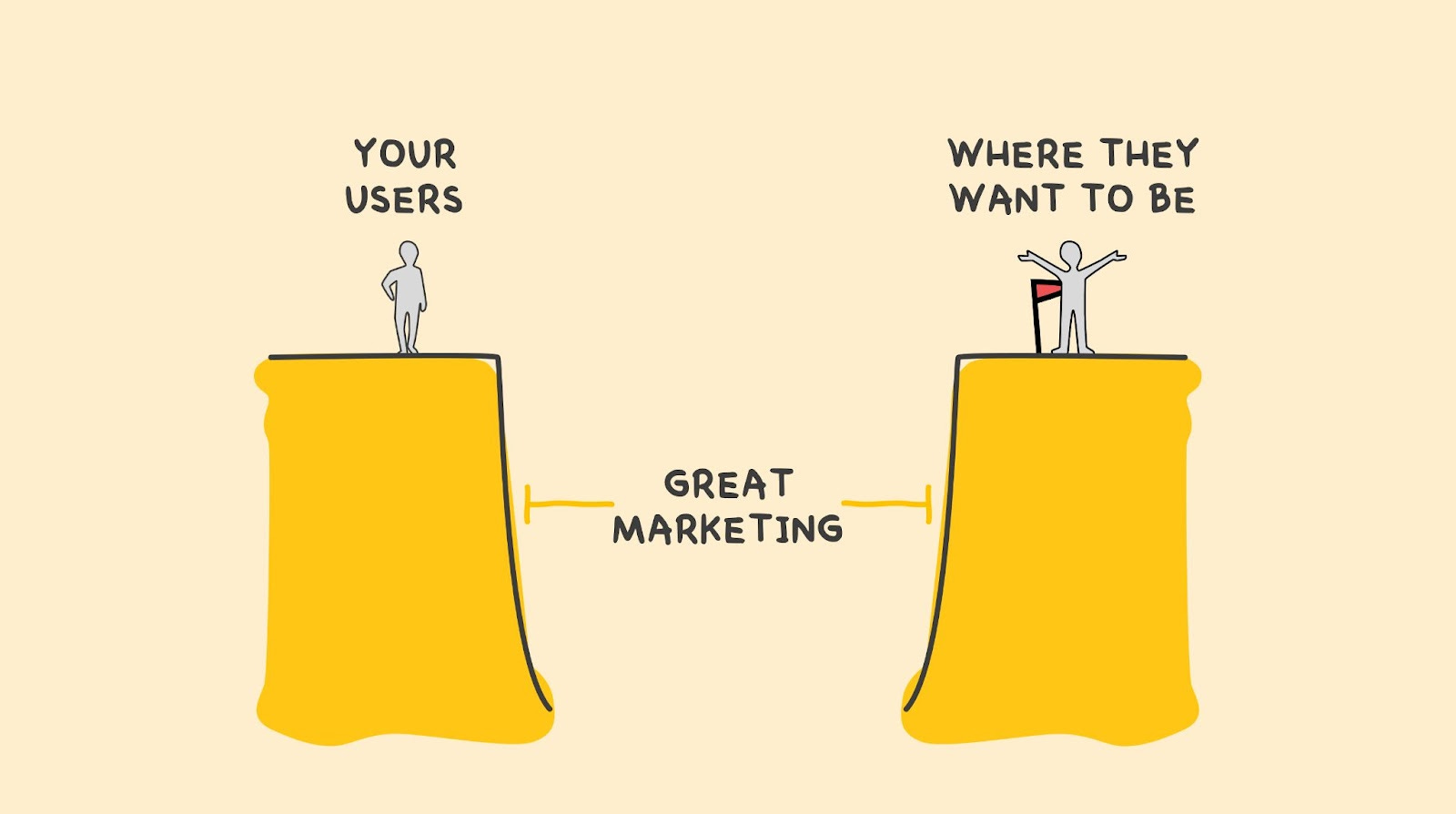 By working with other functions, we can see the whole journey from the beginning to becoming happy customers.
👷‍♀️ Practical ways to involve other teams
So, how do you involve other functions in marketing?
An easy way to get other teams involved in marketing is to ask them for ideas.
For example, I shared a message on Appcues's Slack asking about rebranding our podcast show.

The key here is to say that no ideas are bad ideas. It encourages people to share crazy and out-of-the-world perspectives.
Doing this helped other team members get excited about the new show. They feel like they're contributing to creating a new marketing asset.
Another way is to schedule regular time to chat with leaders of other departments.
For example, I sync up with C. Todd, Appcues' VP of Product, bi-weekly to get his thoughts on new user onboarding and product adoption content.
I also regularly sync up Lyla, our Director of Customer Enablement, about the podcast show we host.
How about you?
How are you working with other functions in your company?
Do you do a lunch-and-learn? Or something else?
I'd love to hear from you!
Reply to this email or leave a comment on Substack.
⭐️ Mini power-ups
Fun-sized blurbs to help boost your marketing
✨ 30 content ideas in less than 30 minutes: I ran across Justin Simon's work on content distribution and repurposing on LinkedIn. His free template helps you think about repurposing and distributing before creating content.
✨ How to build a powerful marketing machine: Emily Kramer discussed in Lenny's Podcast the GACC framework she used to scale marketing at Salesforce, Asana (as its former Head of Marketing), Carta, and MKT1.
✨ A product-led approach to marketing and retention: In this episode of the Marketing Unplugged podcast, I share my thoughts on what marketers need to think about when creating a product-led marketing strategy focused on the customer.
Have a powered-up day!
Ramli John
👋 Say hello on Twitter, LinkedIn, and Instagram
---
---
P.S. If you found this helpful, would you give me a virtual high-five by tapping on the heart below? And if you're feeling generous, kindly forward this to colleagues or click the share button below.

Written by