How to repel bad-fit customers with marketing
Marketing Power-Up #7: Great marketing should attract AND repel at the same time.
I have a problem with being a people-pleaser. 😔
It often leads to me overworking and burning out. And because of that, I've been learning to focus on one thing at a time and say "No" to other things.
Unfortunately, most marketing has the same problem. It tries to say "Yes" to too many people, even the wrong ones!
Great marketing should attract AND repel at the same time.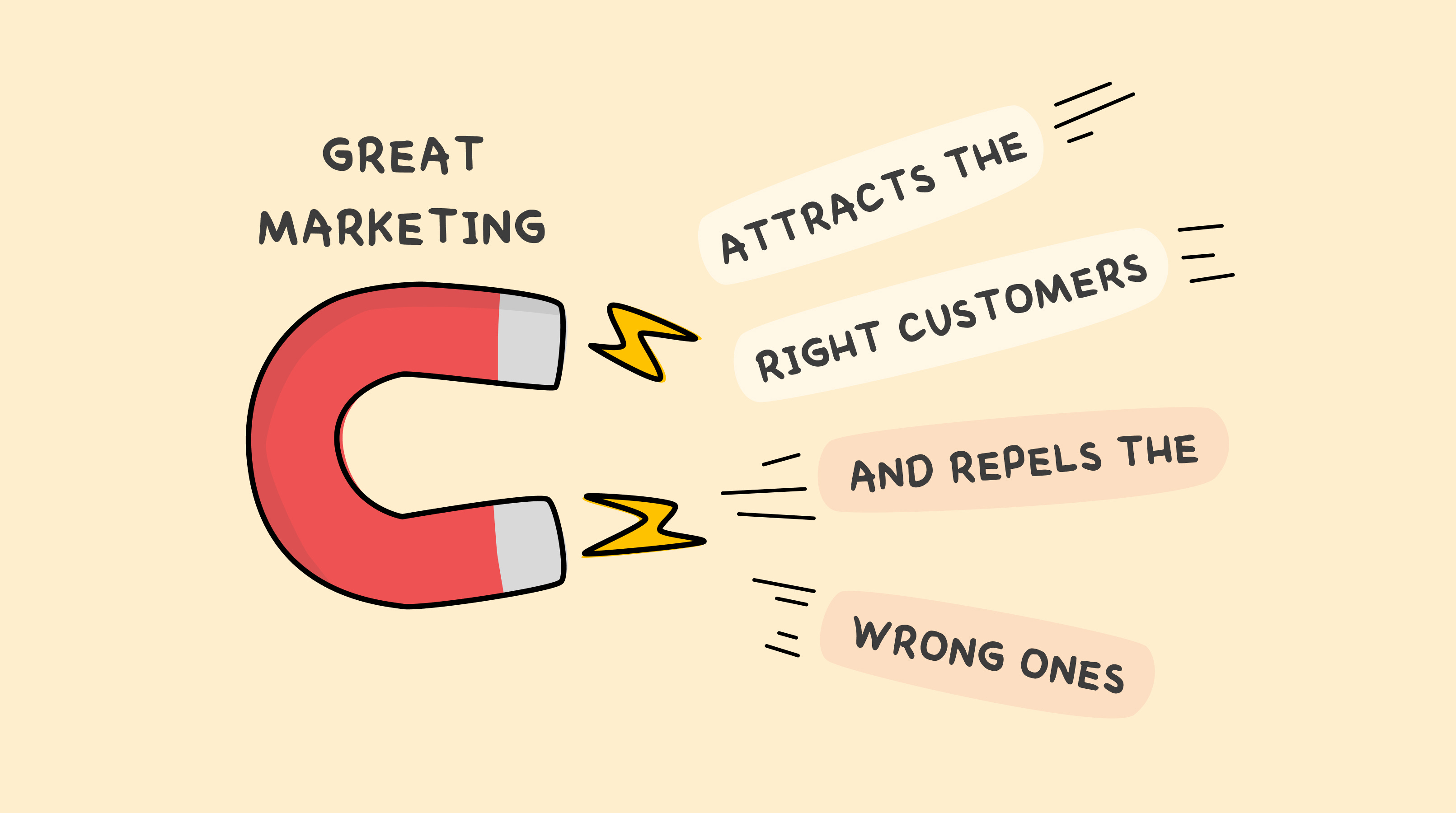 Why?
Much like how people-pleasers eventually burn out, trying to attract everyone with your marketing could result in your business crashing and burning.
It's a waste of time and resources to nurture relationships with people who are a bad fit for your business.
So, how do you avoid that?
Here are three ways to deter the wrong customers with marketing and reel in the right ones:
1. Be brutally honest about the product. 😇
Be upfront about who you can help and who you can't with your product and service.
I've heard people tell me, "But anyone can use our product!"
The reality is that every product has a weakness. For example, Canva is a great tool if you're looking to create professional marketing designs quickly. But if you're looking for pixel-perfect mobile app mockups, Figma is a better tool.
When done right, telling the full truth can make you seem even more credible because you aren't afraid to shine a light on your weaknesses.
2. Use a strong tone of voice. 🗣
The tone of voice is your point of view as expressed through the copy on your landing pages, emails, social posts, and overall marketing.
Your tone of voice should reflect who you are. But more importantly, it should let your customers know how you do the work.
For example, if you use a warm and playful tone of voice in your marketing, you'll likely turn off people who expect to do business in a serious and buttoned-up manner.
3. Call out who is not a fit. 🚫
Write out in detail who will not be a successful client or customer.
Stefan Jez, a Canadian wedding MC and DJ, does this by naming six things the worst possible clients want to do.
He collects all of them in a handy web page section, "We might NOT be a good fit for your wedding if…"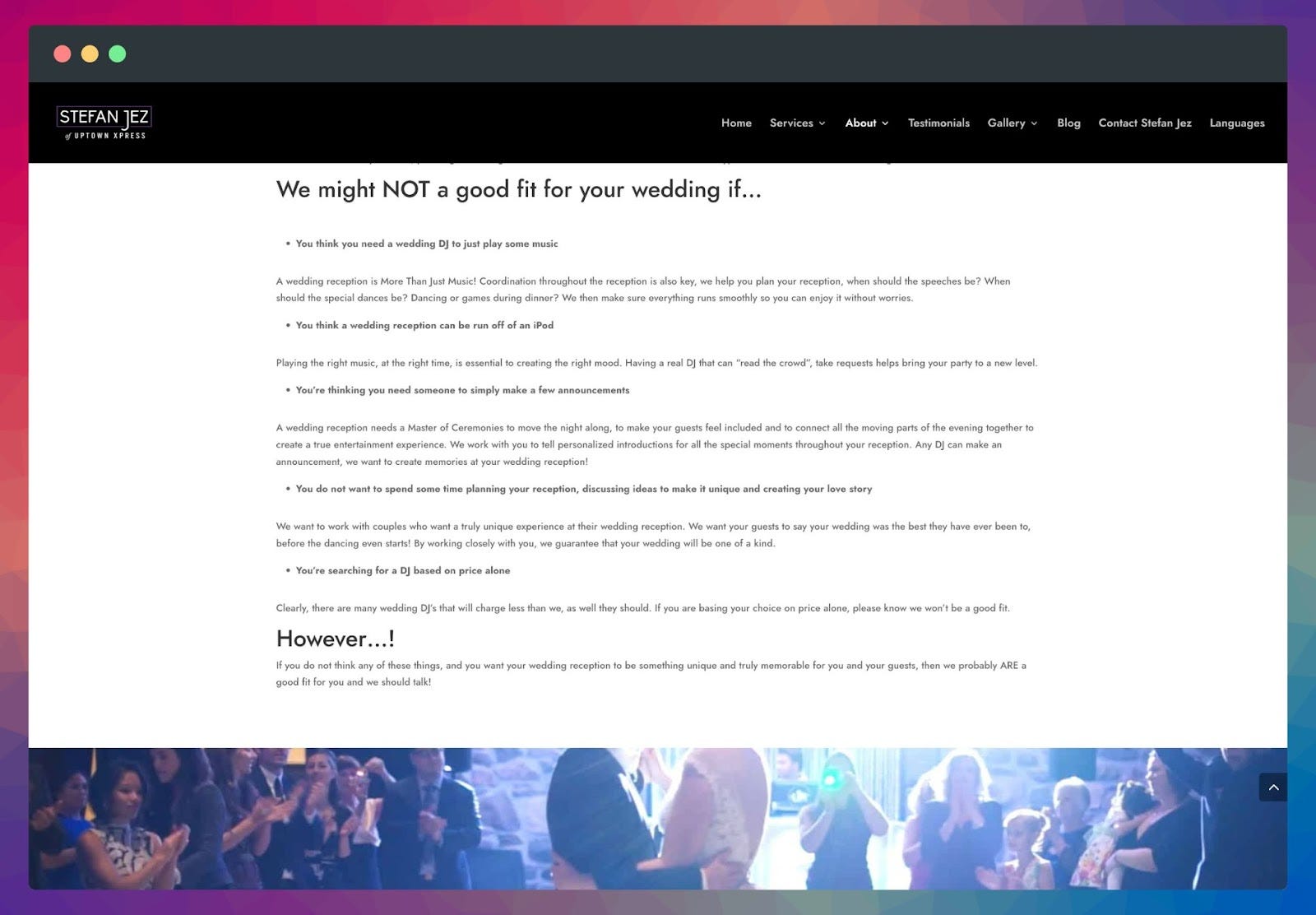 🤮 Repel the wrong customers
Think through how you might attract and deter the right customers for your business with marketing.
You might spend less time spinning your wheels and more time nurturing the customers who matter most.
Do you agree?
How can great marketing repel the wrong customers?
Let me know by replying or leaving a comment on Substack.
⭐️ Mini power-ups
Fun-sized blurbs to help boost your marketing.
✨ SaaS landing page examples: Looking for inspiration for your landing pages? Look no further than this collection of over 700 landing pages from About Us, FAQ, Testimonial, and Blog pages.
✨ Annual planning at Oyster's marketing team: Kevan Lee, VP of Marketing at Oyster, shares his team's approach to annual planning for 2023. Can you believe the new year is exactly 6 weeks!?!
✨ THE copywriting masterclass: Eddie Shleyner (creator of VeryGoodCopy) shares the framework he used to help Justin Welsh generate $2.8M and the Gong.io team acquire double the leads. It's 50% off ($199) until November 21, 2022. No, I'm not an affiliate; I'm just a big fan of Eddie!
Have a powered-up day!
Ramli John
👋 Say hello on Twitter and LinkedIn
---
---
P.S. If you found this helpful, would you give me a virtual high-five by tapping on the heart below? And if you're feeling generous, kindly forward this to colleagues or click the share button below.

Written by